Bakke V. University of California … Appeal: 1978
Reverse Discrimination Claimed, Suggestions For Further Reading
---
---
Appellee: Allan Bakke
Appellant: The Medical School of the University of California
Appellee Claim: That the California Supreme Court erred in ruling that the school's special-admissions program for minorities violated Bakke's civil rights as a white male when he was denied admission
Chief Lawyer for Appellee: Reynold H. Colvin
Chief Lawyers for Appellant Archibald Cox, Paul J. Mishkin, Jack B. Owens, and Donald L. Reidhaar
Justices: Harry A. Blackmun, William J. Brennan, Jr., Warren E. Burger, Thurgood Marshall, Lewis F. Powell, Jr., William H. Rehnquist, John Paul Stevens, Potter Stewart, and Byron R. White
Place: Washington, D.C.
Date of Decision: June 28, 1978
Decision: That the school's special-admissions program was unconstitutional
---
---
SIGNIFICANCE: For the first time, the Supreme Court said there could be such a thing as reverse discrimination.
The University of California operates several campuses throughout the state, and it is one of the largest state-sponsored higher education systems. At the university's campus in Davis, California, a medical school was established in 1968 with an entering class of 50 students. Three years later, the entering class size was doubled to 100 students. Originally, there was no preferential admissions policy for minorities. From 1968 to 1970, the school implemented a special-admissions program to increase minority representation in each entering class.
The special admissions program worked separately from the regular admissions program. Sixteen percent of the entering class was reserved for minorities, and minority applicants were processed and interviewed separately from regular applicants. The grade point averages and standardized test score averages for special-admissions entrants were significantly lower than for regular-admissions entrants.
In 1973, a Caucasian male named Allan Bakke applied to the Davis Medical School. Although Bakke got a combined score of 468 out of a possible 500 from his interviewers, his application was rejected. There were 2,464 applications for the 100 positions in the 1973 entering class, and by the time Bakke's application came up for consideration the school was only taking applicants with scores of 470 or better. Four special-admissions seats were left unfilled, however, and Bakke wrote a bitter letter to Dr. George H. Lowrey, associate dean and chairman of the Admissions Committee, complaining about the injustice of the special-admissions process.
Bakke applied again in 1974. That year there was even more competition for the 100 entering class positions: the school received 3,737 applications. Lowrey was one of Bakke's interviewers and gave him a low score, which contributed to Bakke's being rejected once again. Furious, Bakke sued the University of California in the Superior Court of California.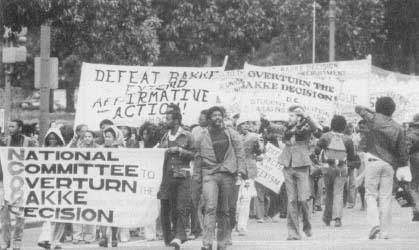 Marchers protesting the Court's decision in Bakke. (AP/Wide World Photos)
Bakke alleged that the Medical School's special admissions program acted to exclude him on the basis of his race and violated his rights under the Equal Protection Clause of the Fourteenth Amendment to the U.S. Constitution, the California state constitution, and civil rights legislation. The trial court agreed but refused to order the school to admit Bakke as a student. Bakke appealed to the California Supreme Court, which confirmed the trial court's decision that the school's admissions programs were unconstitutional and also ordered the school to admit Bakke.
Additional topics