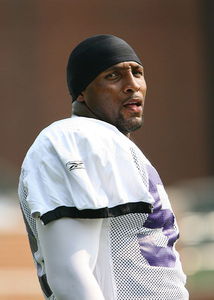 Defendant: Ray Lewis
Crimes Charged: Murder, assault with a deadly weapon
Defense Lawyers: Ed Garland, Jana Harris, Max Richardson
Prosecutor: Paul Howard
Judge: Alice D. Bonner
Place: Atlanta, Georgia
Dates of Trial: May-June 2000
Verdict: Guilty of obstruction of justice; other charges dropped
SIGNIFICANCE: The arrest of Ray Lewis, a National Football League (NFL) linebacker with the Baltimore Ravens, on murder charges, coming just weeks after the indictment of another professional football player, Rae Carruth of the Carolina Panthers, on first-degree murder charges, focussed national attention on the issue of violence by professional athletes.
Ray Lewis grew up in Lakeland, Florida, and played football for the University of Miami. He left after his junior year and was selected by Baltimore in the first round of the 1996 draft. He led the Ravens in tackles each of his four seasons, and led the league in tackles in 1997 and 1999. In 1998 he signed a fouryear contract extension with the Ravens for $26 million, making him the highest paid middle linebacker in the National Football League.
Additional topics