Maddox Pagones v. Sharpton & Mason: 1997-98
Fistfights In Court, A Ten-year Delay
---
---
Plaintiff: Steven Pagones
Defendants: Al Sharpton, Alton H. Maddox, Jr., and C. Vernon Mason
Plaintiff Claim: Defamation of character
Chief Defense Lawyers: Sharpton: Michael Hardy; Alton Maddox; Mason: Stephen C. Jackson
Chief Lawyer for Plaintiffs: William Stanton
Judge: S. Barrett Hickman
Place: Poughkeepsie, New York
Dates of Trial: November 18, 1997-July 13, 1998
Verdict: Against all defendants; Pagones awarded $345,000 in damages
---
---
SIGNIFICANCE: Ordinarily, public figures have little recourse to libel. This case revealed that, on occasion, accusations can be so egregious that public figures must have the ability to have their name cleared in court.
On the afternoon of November 28, 1987, a black high school student named Tawana Brawley, 15, who had been missing from home for four days, was found outside an apartment complex in Wappingers Falls, New York, wrapped in a plastic bag, with racial epithets scrawled on her chest and feces smeared on her body. In her statement to the police, she claimed to have been kidnapped and raped by six white men, one of whom flashed a badge. A medical examination found no evidence of sexual abuse. On November 30, she made another statement to the police. It would be the last time she ever spoke to anyone in authority.
The unrelated suicide next day of a local police officer, Harry Crist, Jr., was seized upon by Brawley's supporters and family as evidence of a cover-up, sparking a rash of public accusations. In response to community concerns, New York governor Mario Cuomo appointed State Attorney General Robert Abrams as a special prosecutor and, on February 29, 1988, a grand jury was impaneled to investigate the case. At this time, the Reverend Al Sharpton, who had been in close consultation with the Brawley family, accused Dutchess County Assistant District Attorney Steven Pagones of being involved in the attack and demanded his arrest.
On October 6, 1998, the grand jury released its verdict: Tawana Brawley's entire story had been a fabrication. Following this decision, Pagones filed suit against Sharpton and two associates, Alton H. Maddox, Jr., and C. Vernon Mason, alleging defamation of character. Tawana was also named in the original suit, but after defying numerous subpoenas, she was eventually removed from the action in 1991 and Pagones won a default judgment against her.
After almost 10 years, the case finally went to trial on November 18, 1997. Pagones faced a tough task—being a public figure, to win his case he needed to prove that Sharpton, Maddox, and Mason had known their statements were false or that they had recklessly disregarded the truth.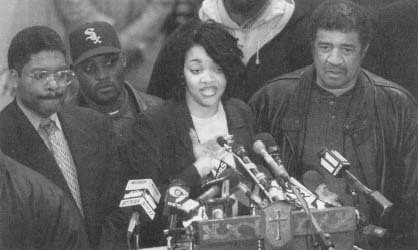 Tawana Brawley with Alton Maddox (left) speaks to supporters before the defamation lawsuit against the men who had advised her. (AP/Wide World Photos)
When opening arguments began, Maddox, who represented himself, told the jury he was convinced that Tawana had been telling the truth about what had happened to her in 1987. "If we had thought that Tawana Brawley was lying, we would have taken her to the woodshed and whipped the daylights out of her."
For William Stanton, representing Pagones, the issues were cut and dried. "The evidence will show that each of them defamed and slandered Steve Pagones," he said. "The Brawley family hatched the story. These defendants were the screenwriters."
Additional topics