Jenny Jones Trials: 1996-99
Schmitz Guns Down His "admirer", Jenny Jones Show Sued
---
---
Principal Defendants: Jonathan Schmitz, The Jenny Jones television show, and Warner Brothers
Claims/Crimes Charged: Wrongful death, murder, and committing a felony with a firearm
Chief Defense Lawyers: Schmitz: James Burdick, Fred L. Gibson, and Jerome Sabbota; Jenny Jones/Warner Brothers: James Feeney
Chief Prosecutors: Roman Kalytiak and Donna Pendergast
Chief Lawyer for Plaintiff: Geoffrey N. Fieger
Judges: First criminal trial: Francis X. O'Brien; second criminal trial: Wendy Potts; civil trial: Gene Schneiz
Place: Pontiac, Michigan
Dates of Trials: First criminal trial: October 14-December 4, 1996; second criminal trial: August 9-September 14, 1999; civil trial: March 18-May 7, 1999
Verdicts: First criminal trial: Guilty of second-degree murder; second criminal trial: Guilty of second-degree murder; civil trial: $25 million judgment for the plaintiff
Sentences: First and second criminal trials: 25 to 50 years imprisonment for each
---
---
SIGNIFICANCE: The criminal trials of Jonathan Schmitz, and even more so the civil trial of the Jenny Jones television show, revealed the tension between the belief that people must take responsibility for their own actions while ill-considered and ever more extreme sensationalism on TV talk shows can push people into violent and tragic behavior.
In 1994, the Jenny Jones television show (Jenny Jones), a national television talk show, was planning to produce a program on same-sex crushes and was searching for people who would publicly admit to having one. Thirty-two-year-old Scott Amedure, who lived in a Detroit suburb, fit the description, having developed a crush on his 26-year-old friend Jonathan Schmitz some time earlier, and he contacted the show's producers. Jenny Jones executives then invited Schmitz to appear as a guest on the program, explaining that someone had confessed to having a crush on him.
The producers later said that Schmitz knew the show was about same-sex crushes and that the person interested in him could be a man, while Schmitz maintained that they had led him to believe that the secret admirer was a woman.
On March 6, 1995, Schmitz walked onto the stage of Jenny Jones in front of a studio audience, expecting to find (he later said) his former girlfriend on stage as well. Instead, Amedure was waiting for him and described, on camera, a sexual fantasy involving Schmitz. Schmitz smiled and said to Amedure, "You lied to me." While he seemed to keep his good humor during the taping, he stressed that he was heterosexual and that he was not romantically interested in Amedure.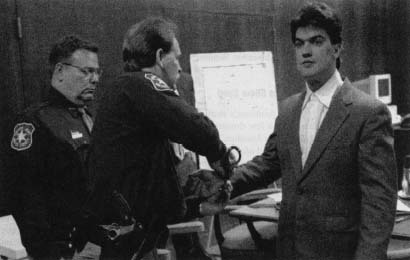 Jonathan Schmitz argued that the Jenny Jones Show drove him to kill Scott Amedure.(AP/Wide World Photos)
Additional topics