Joel Steinberg Trial: 1988-89
A Deadly Relationship, Cocaine Rage
---
---
Defendant: Joel Steinberg
Crime Charged: Murder
Chief Defense Lawyers: Ira London and Adrian DiLuzio
Chief Prosecutors: Peter Casolaro and John McCusker
Judge: Harold Rothwax
Place: New York, New York
Dates of Trial: October 25, 1988-January 30, 1989
Verdict: Guilty, First degree manslaughter
Sentence: 8½-25 years
---
---
SIGNIFICANCE: New York's first-ever televised murder trial held the interest of the nation with its account of chronic child abuse and obsessive love. Initial audience anger and frustration with an adoption system that could allow such a thing to happen soon coalesced into bewilderment over why a seemingly intelligent and upscale couple would resort to such atrocities.
For 12 years criminal lawyer Joel Steinberg and Hedda Nussbaum, a former editor and writer of children's books, shared a one-bedroom apartment in New York City's Greenwich Village. Theirs was a brutal relationship, fueled by cocaine and sadomasochistic sex. Violent beatings often sent Nussbaum to the hospital, but she always returned to the man she loved and their filthy apartment. One observer would later describe it as "a cave." Inexplicably, they sought to introduce children into this nightmare, but they were unable to have children themselves. Steinberg used his knowledge of legal loopholes to "adopt" two babies without filing the necessary paperwork. These loopholes cost one little girl her life.
At 6:35 A.M. on Monday, November 2, 1987, a 911 call from Nussbaum brought paramedics to the apartment. They found 6-year-old Lisa naked and emaciated, unable to breathe, covered with bruises. Steinberg, 47, his knuckles scratched and raw, told the paramedics that she had choked on some food and lapsed into a coma, and he had attempted to revive her with a combination of cardiopulmonary resuscitation and the Heimlich maneuver. Nussbaum, 46, watching from the bedroom, said nothing. Investigators later found the couple's other child, Mitchell, 16 months old, tethered to a makeshift playpen with a rope. He too showed obvious signs of neglect.
The full extent of Lisa's maltreatment became apparent at the hospital. Hardly an inch of her 43-pound-body was unmarked. Guided by the varying discoloration, doctors were able to plot a long pattern of abuse. The examination resulted in Steinberg and Nussbaum being charged with attempted murder. On November 5, when it became clear that Lisa would never recover from the coma, her life-support system was removed. The couple now faced murder charges.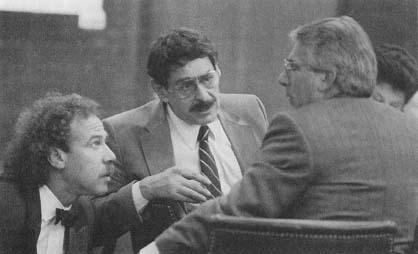 Joel Steinberg conferring with his attorneys. Steinberg was convicted of murdering 6-year-oid Lisa Steinberg whom he had illegally adopted (AP/Wide World Photos)
In building their case, prosecutors realized that to secure a conviction against Joel Steinberg, they needed Hedda Nussbaum's testimony. Reluctantly they agreed to drop all charges against her if she would cooperate with their inquiries. She readily agreed.
Additional topics