Theodore Robert Bundy Trials: 1976 & 1979
On The Run And Deadly
Two weeks and 2,000 miles later, five female students attending Florida State University (FSU) in Tallahassee were savagely attacked at the Chi Omega sorority house. Two of the girls, Lisa Levy and Margaret Bowman, died. Just a few blocks away, another student was attacked but lived. On February 16, 1978, a man using the name "Chris Hagen" was arrested for driving a stolen vehicle. Ted Bundy had been captured for the last time. Only later was it learned that just days before his arrest he had killed again: 12-year-old Kimberly Leach, of Lake City, Florida. Her body was found April 7, 1978.
Because of local feeling, Bundy's trial for the FSU killings was moved to Miami. Earlier it had appeared likely that there would be no trial. Faced with the possibility of two lengthy trials—Bundy was scheduled to be tried for the murder of Kimberly Leach later—the prosecutors reluctantly agreed to a plea bargain. Everything was set; Bundy signed a confession, admitting that he had killed Lisa Levy, Margaret Bowman, and Kimberly Leach. In return, he expected that, "Under the terms of this negotiated plea, I will serve seventy-five (75) calendar years in prison before I become eligible for parole." But when Bundy stood in court to deliver this plea, he abruptly changed his mind and stated, "I'm not going to do it." His attorneys looked on aghast as a trial was set.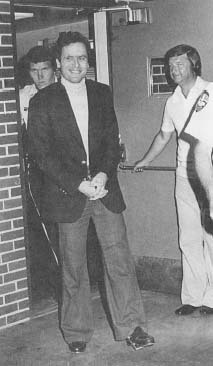 Bundy—after he was recaptured outside Aspen Colorado's city limits. (AP/Wide World Photos)
The Miami trial got under way June 25, 1979. Larry Simpson made the opening prosecution statement, a low-key, workmanlike presentation, long on fact and bereft of emotion. For theatrics, the court had to rely on the self-appointed chief defense counsel: Bundy himself. It wasn't supposed to be that way—the court had appointed a fine team to argue his case—but Bundy's ego would not allow him to leave well enough alone. His cross-examination of Roy Crew, the FSU officer first on the scene at Chi Omega, was inept. Bundy pushed Crew hard to describe the murder scene in graphic detail, as if determined to impress upon the jury the awfulness of the crime.
Additional topics