Samuel Sheppard Trials: 1954 and 1966
The Carnival Begins, Morals, Not Murder, A Second Chance, Suggestions For Further Reading
---
---
Defendant: Samuel Sheppard
Crime Charged: Murder
Chief Defense Lawyers: First trial: William J. Corrigan, William Corrigan, Jr., Fred Garmone, and Arthur E. Petersilge; Second trial: F. Lee Bailey
Chief Prosecutors: First trial: Saul S. Danaceau, John J. Mahon, and Thomas J. Parrino; Second trial: John Corrigan
Judges: First trial: Edward C. Blythin; Second trial: Francis J. Talty
Place: Cleveland, Ohio
Dates of Trials: October 18-December 21, 1954; October 24-November 16, 1966
Verdicts: First trial: Guilty, second-degree homicide; Second trial: Not guilty
Sentence: First trial: Life imprisonment
---
---
SIGNIFICANCE: In this most sensational American murder case of the 1950s, pretrial prejudice and adverse media publicity conspired to deprive the defendant of his constitutional rights.
Balancing First Amendment rights to free speech against a defendant's right to a fair trial has never been easy, but in covering the Sam Sheppard trial, Cleveland's major newspapers trampled these distinctions underfoot. The abominations they perpetrated on a local level, radio columnist Walter Winchell paralleled nationally, until virtually everyone in America was convinced of Sheppard's guilt before even a word of testimony was heard. To be sure, his story sounded unlikely, but improbability does not necessarily imply guilt. Life is strange and so, very often, is death.
This amazing saga had its beginnings on July 3, 1954, when Dr. Samuel Sheppard, an affluent 30-year-old osteopath, and his pregnant wife Marilyn, invited their neighbors, the Ahearns, over for drinks at their home on the shores of Lake Erie. While the others watched TV, Sheppard dozed on the couch. Just after midnight the Ahearns left. Sam Sheppard remained sleeping on the couch while Marilyn Sheppard went to bed.
Sometime later, according to his version of events, Sheppard heard a loud moan or scream. He rushed upstairs to the bedroom and saw "a white form" standing beside the bed. Then everything went black. When he regained consciousness, Sheppard realized he had been clubbed on the neck. He stumbled across to the bed where his wife lay unmoving. A sudden noise sent him racing downstairs. By the rear door he spotted "a man with bushy hair." He pursued the intruder onto the beach and tackled him from behind. During the struggle Sheppard blacked out again. This time when he came to, he was partially immersed in the waters of Lake Erie. Groggily, he staggered back to the house and phoned for help.
Police found Marilyn Sheppard's half-nude body lying in a pool of blood, her head and face smashed to a pulp. Downstairs, a writing desk had been ransacked and the contents of Sheppard's medical bag lay strewn across the floor. Apparently, someone had come to rob the house and ended up killing Marilyn Sheppard.
Meantime, Sam Sheppard had been whisked away by his two brothers to the hospital they owned jointly. It was this incident, more than any other, which unleashed the tidal wave of venomous press coverage that swamped this case, as circulation-hungry editors clamored that the wealthy "Sheppard Boys" had closed ranks to protect their own.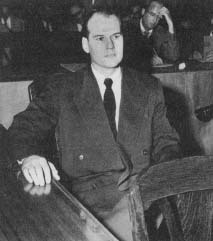 Samuel Sheppard, the subject of the most sensational murder case of the 1950s. (AP/Wide World Photos)
The discovery at the house of a canvas bag, containing Sheppard's wristwatch, key chain and key, and a fraternity ring, gave rise to speculation that he had faked a robbery to conceal murder. When details of an extramarital affair emerged, official suspicion heightened. Urged on by an increasingly vituperative Cleveland press, police arrested Sheppard and charged him with murder.
Additional topics