William Lancaster Trial: 1932
Forged Letters, Confident Defendant
Defendant: William Lancaster
Crime Charged: Murder
Chief Defense Lawyers: James M. Carson, James H. Lathero
Chief Prosecutors: N. Vernon Hawthorne, Henry M. Jones, H.O. Enwall
Judge: Henry Fulton Atkinson
Place: Miami, Florida
Date of Trial: August 2-18, 1932
Verdict: Not guilty
SIGNIFICANCE: A steamy trial from South Florida that made global headlines, and provided a stark reminder of just how vital courtroom demeanor is to those who matter most—the jury.
February 1932 found Captain William Lancaster, a 34-year-old British pilot, and his Australian lover, Jessie "Chubbie" Miller, down on their luck in Miami, Florida. It was a far cry from the glory days of four years earlier, when the couple had flown from England to Australia in a rickety biplane, making Chubbie Miller one of the most famous female aviators alive.
In a bid to revive their fortunes they invited a young American, Haden Clarke, into their Coral Gables home, with the intention that he would ghostwrite Miller's memoirs. While Lancaster was away looking for work in Mexico, Miller and Clarke became lovers. Lancaster reacted badly to news of the affair and scraped together enough money to fly back to Miami. He arrived on April 20, 1932. In the early hours of the following morning, Clarke received a bullet wound to the head and subsequently died.
Initial police inquiries centered on an assumption of suicide, but it soon became clear that Lancaster's story of events that night didn't hold water, and he was charged with murder.
The Miami courthouse was packed with reporters from around the world when the trial opened on August 2, 1932. According to District Attorney Vernon Hawthorne, it was all about jealousy. Lancaster, having trusted Clarke to look after Miller in his absence, had become incensed by the younger man's duplicity. Witnesses would state, said Hawthorne, that Lancaster "paced the floor saying, 'I'll get rid of him.'" Hawthorne told how, after buying a revolver and cartridges, Lancaster flew to Nashville where, "On the last night out from Miami he broke open the box of cartridges and loaded the pistol."
The events of the fateful night were described by Charles Ditsler, an ambulance driver. At 3 A.M., on April 21, he was summoned to the house in response to a shooting, and found Clarke lying on his bed, a huge bullet wound in his head. Beneath the body lay the revolver purchased by Lancaster. Clarke wasn't dead, said Ditsler, but Lancaster kept asking, "Do you think he will talk again?" to which Ditsler had replied, "I doubt it."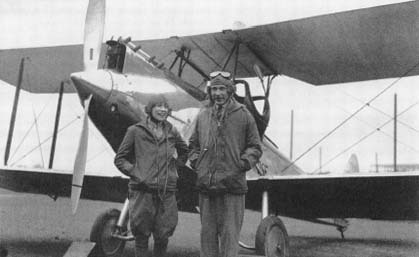 British pilot, William Lancaster, and his Australian lover, Jessie "Chubbie" Miller. (Bettmann/Corbis)
Ditsler had spotted two typed suicide notes by the body, both signed in pencil. One was addressed to Chubbie, one to Bill. In each Clarke apologized for his execrable conduct and begged their forgiveness.
Ernest Huston, an attorney, also summoned to the house by Lancaster took up the story. He, too, saw the notes, but had resisted Lancaster's suggestion that they destroy them, saying, "No, they're important."
Additional topics