The Glen Ridge Rape Trial: 1992-93 - … The People That Teenagers Admired …"
fisher

sexual

testified

zegas
The boys Fisher encountered on March 1, 1989, said Goldberg, "were the football players, the wrestlers, the baseball players, the people that teenagers admired for their physical prowess. They were her heroes—the stars."
Defense attorneys Thomas Ford, Michael Querques, Alan Zegas, and Louis Esposito each opened with comments on Fisher's previous sexual experience, theorizing that she knew what was happening and could have said, "Stop."
Prosecution witness Dr. Susan Esquilin, a psychologist expert on sexabuse victims who had diagnosed Fisher as a mental eight-year-old, testified that "sexuality for her has to do with what somebody asks her to do." Crossexamined, she said, "I don't think she has any capacity to say no."
Also for the prosecution, Dr. Gerald Meyerhoff, former chief of psychiatry at Bergen Pines County Hospital in Paramus, New Jersey, testified that "her search for friends is an important piece of her life." Next, psychiatric nurse and University of Pennsylvania professor Ann Burgess used drawings depicting rape, made by Fisher some months after the attack, to explain the victim's long wait to report the crime and to prove that she was distressed by it. This testimony about rape trauma syndrome was the first ever permitted by a New Jersey judge as trial evidence.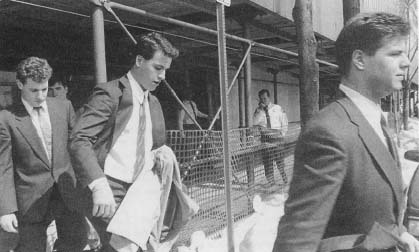 Defendants in Glen Ridge sexual assault trial, from right, Kevin Scherzer, his twin, Kyle, Bryant Grober, Christopher Archer, (AP/Wide World Photos)
Called as a prosecution witness, Fisher's mother testified on her daughter's learning difficulties and inability to travel alone or handle finances. She described how school officials had told her a group of boys had had some kind of sexual encounter with her daughter.
On cross-examination, defense attorney Thomas Ford established that Fisher's mother had earlier realized that Fisher was sexually active and had obtained birth control pills for her. Bryan Grober's lawyer, Alan Zegas, insisted that Fisher had been removed from her high school "because of her inappropriate conduct." Fisher's mother replied, "The situation was that she was a potential rape victim."
Zegas persisted. "Your reason for getting birth control pills for your daughter was not because she, of her own accord, was having sexual relations with other men?"
"I have never heard that before," came the reply.