Charles Harrelson Trial: 1982-83 - Harrelson Alleges Complicated Set-up
claimed

kay

judge

murder
Harrelson claimed that he was set up. He claimed that a fellow gambler, George (Pete) Kay had bilked Jamiel Chagra by claiming that Charles Harrelson had killed the judge and should collect the $250,000 fee. In effect, he was being tried for murder, when he claimed that his only involvement was in a con-game to get the murder pay-off money for a killing performed by someone else. Harrelson argued that Kay's wife had purchased a Weatherby hunting rifle of the type used to kill the judge some 12 days before the killing. Jo Ann had purchased the rifle under a false name, Mrs. "Fay King." She had then given the rifle to George Kay. Harrelson also testified that Kay had borrowed his own distinctive gold-colored Oldsmobile, similar to one seen near the judge's apartment on the day of the killing. Harrelson claimed that when the murder took place, he was in Dallas, 270 miles away.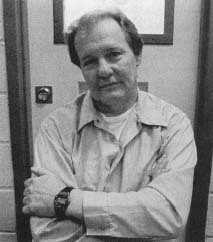 Charles Harrelson in a Federal Penitentiary serving two life sentences for the murder of Judge John Wood. (The Gamma Liaison Network)
Harrelson said that Kay had about $135,000 of the payoff money delivered to him by Elizabeth Chagra as part of the scam. She, in turn, claimed she thought the payoff was for a gambling debt, and did not believe her husband when he claimed, "This is for the judge."