Jamaal "Shyne" Barrow Sean "Puff Daddy" Combs and Anthony Jones Trial: 2001
Tainted Witnesses Or A Bad Case?, Lawyers Battle In Closing Arguments
---
---
Defendants: Sean "Puff Daddy" Combs, Jamaal "Shyne" Barrow, Anthony Jones
Crimes Charged: Combs and Jones: Criminal possession of a firearm, bribing a witness; Barrow: Attempted murder, assault, criminal use and possession of a firearm, reckless endangerment
Chief Defense Lawyers: Combs: Benjamin Brafman, Johnnie Cochran, Jr.; Jones: Michael Bachner; Barrow: lan Niles, Murray Richman
Chief Prosecutor: Matthew Bogdanos
Judge: Charles Solomon
Place: New York, New York
Date of Trial: January 17-March 16, 2001
Verdict: Combs and Jones: acquitted; Barrow: acquitted of attempted murder and on one count of assault, guilty of all other charges
Sentence: Barrow: 10 years imprisonment
---
---
SIGNIFICANCE: In one of the twenty-first century's first "celebrity trials," attorneys, pundits, and the public argued over whether hip-hop music star Sean "Puff Daddy" Combs was a wealthy bully trying to bribe his way out of a possible 15-year prison sentence or a mild-mannered multimillionaire being persecuted for rap music's frequent association with violence.
Around 2:30 A.M. on December 27, 1999, gunfire exploded inside Club New York, a midtown Manhattan nightclub. As ambulances were dispatched to the club to treat wounded patrons, police surrounded a sport utility vehicle that had raced away through red traffic lights. When a 9mm pistol was discovered in the car, the passengers were arrested. They included music executive Sean Combs and his retinue, including film and music star Jennifer Lopez, bodyguard Anthony "Wolf Jones, and chauffeur Wardell Fenderson. Jamaal "Shyne" Barrow, an aspiring rap singer Combs was grooming for his Bad Boy Records label, was arrested at Club New York.
The incident was traced to an exchange between the arrested men and Matthew "Scar" Allen, who had thrown a wad of cash at Combs as an insult after Allen's drink was spilled at the crowded bar. The case immediately drew headlines, not because of the three people wounded in the shooting, but because of the celebrity of those arrested. Combs, also known as "Puff Daddy" or "Puffy," was one of the wealthiest executives and performers in the music business. Lopez, Combs's girlfriend and a well-known actress and singer, was released without being charged. After hours of questioning, however, gun possession and assault charges were filed against Combs, Jones, and Barrow. Combs and Jones were further charged with trying to bribe Fenderson by offering him $50,000 to tell police that the pistol found in the vehicle was his.
Barrow, who faced attempted murder, assault, gun possession, and reckless endangerment charges, was clearly in the most serious trouble with the law. Due to Combs's celebrity, however, the case would become known as "the Puff Daddy trial." Combs had become famous as a rap singer, producer, songwriter, and talent scout. Contrary to the tough persona of his records, his attorneys began portraying him as a fatherless young man who had left college to build a multimillion-dollar business empire, which included his own recording, clothing, restaurant, and film concerns. In the courts of law and public opinion, battles raged over whether the real Combs was a gangster or a CEO. His legal record was not spotless. In 1999, he was arrested for beating a record executive and had been sentenced to one day in an anger management program after pleading guilty to a lesser charge. He was also being sued by a television show host he had allegedly assaulted and faced a weapons charge over an incident at another New York nightclub.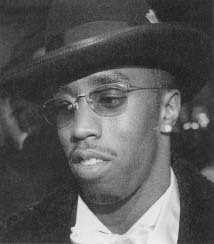 Hip-Hop music star Sean "Puff Daddy' Combs. (AP/Wide World Photos)
Additional topics