Ray Lewis Trial: 2000
The Case Against Ray Lewis
On February 2 the lead role in Lewis's defense was taken over by Ed Garland of Atlanta, described in the press as "a noted criminal lawyer who is known in the region for a certain flamboyance while representing the rich and famous." On February 7 Atlanta police searched Lewis's Baltimore home, and on February 10 there was a news conference given by Atlanta deputy police chief Carter Jackson and Fulton County district attorney Paul Howard, at which they gave the details of the case as they saw it. Reginald Oakley and Joseph Sweeting were also principal suspects in the murder. Both had extensive criminal records, were still fugitives, and were considered armed and dangerous. The authorities said Lewis and two acquaintances had purchased knives at an Atlanta sporting goods store on January 29. Howard stated that witnesses would testify that Lewis had been active in the brawl. The chief prosecution witness would be the driver of the limousine, Duane Fassett. Two days later Lewis was indicted by a grand jury and charged with two counts of malicious murder, two counts of felonious murder, and two counts of assault with a deadly weapon.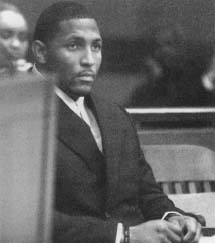 Baltimore Ravens linebacker Ray Lewis listens to testimony during his murder trial. (AP/Wide World Photos)
The next day Ed Garland gave the defense's version of the incident, claiming that Lewis had attempted to be a peacemaker in the brawl and to break up the fight, trying to pull his acquaintances away. The shots that were fired were aimed at the limousine as it left.
On February 14 Joseph Sweeting turned himself into police, and Reginald Oakley did so the following day. That same day Lewis was released on $1 million bail, ordered to stay in his Maryland home, and to use no alcohol or drugs.
The case was assigned to Fulton County Superior Court judge Alice D. Bonner, and Lewis formally entered a not guilty plea. In pretrial motions Judge Bonner ruled that the results of the search of Lewis's home could be used in the trial, but that previous allegations of assault could not. Twice during Ray Lewis's college days Coral Gables police had investigated Lewis following allegations of battery made by different girlfriends, but no charges were brought. In November 1999 a woman had brought second-degree assault charges against Lewis, alleging that he had punched her in the face during an incident at a Baltimore area nightclub. These charges were dropped in late March 2000 because of conflicting testimony from witnesses.
Additional topics