Amadou Diallo/NYPD Trial: 2000
Unarmed And Law Abiding
Investigators learned that the man was a 22-year-old immigrant from Guinea named Amadou Diallo who sold videos, CDs, and tapes on East 14th Street in Manhattan and had a reputation as a devout, law-abiding Muslim. He did not have a gun. He died on his own doorstep.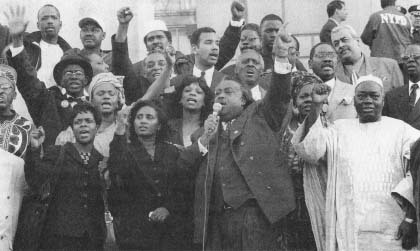 Rev. Al Sharpton addresses the crowd along with Saikou Diallo, father of police shooting victim Amadou Diallo. (AP/Wide World Photos)
A Bronx grand jury began probing the 41-bullet barrage. Police statistics showed that in 1998 the Street Crime Unit had frisked 22,414 law-abiding people prompting a rash of citizen protests, led by the Reverend Al Sharpton. On March 25, 1999, the four officers, all white, were indicted for second-degree murder.
For eight months, the protests continued—in the Bronx, at City Hall, in Wall Street, and at NYPD Headquarters, resulting in nearly 800 civil-disobedience arrests. Arguing that a fair trial in New York City was impossible in view of the intensive protests and negative news coverage, defense lawyers filed a motion in the Appellate Division of the New York State Supreme Court to move the trial out of town. On December 16, five appellate judges—Richard Andrias, John Buckley, David Friedman, Alfred Lerner, and David Saxe—unanimously decided to move the trial to Albany.
"This case has been deluged by a tidal wave of prejudicial publicity," concluded the judges, who cited a poll showing that 81 percent of Bronx residents saw no judges, justificationwho for firing 41 bullets at an unarmed man. "Even an attempt to select an unbiased jury would be fruitless."
Jury selection began before Judge Joseph Teresi in Albany on the last day of January. Four black and two white women, and six white men were chosen, with four white male alternates.
Outside the Albany County Courthouse, some 600 protesters, mostly bussed from New York City, thronged the snow-packed streets. The judge permitted television cameras into the courtroom.
Additional topics