Defendants: Edwin Edwards, Stephen Edwards, Andrew Martin, Greg Tarver, Ecotry Fuller, Bobby Johnson, Cecil Brown
Crimes Charged: Extortion, mail fraud, wire fraud, money laundering, interstate travel and communication in aid of racketeering, false statements, illegal wiretapping, Racketeer-influenced Corrupt Organizations (RICO) Act violations, conspiracy
Chief Defense Lawyers: Edwin Edwards: Daniel Small; Stephen Edwards: James Cole; Andrew Martin: S.C. Garcia, Ill, Ryan J. Roemershauser; Greg Tarver: Mary Olive Pierson, Hillar C. Moore, l1l; Ecotry Fuller: Kenneth Craig Smith; Bobby Johnson: Patrick Fanning, Ernest Johnson; Cecil Brown: Rebecca Hudsmith
Chief Prosecutors: Eddie Jordan, Jim Letten, Michael Magner, Peter Strasser, Todd Greenberg, Fred Harper
Judge: Frank Polozola
Place: Baton Rouge, Louisiana
Dates of Trial: January 10-May 9, 2000
Verdicts: Edwin Edwards, Stephen Edwards, Andrew Martin, Cecil Brown, Bobby Johnson: guilty (Cecil Brown convicted March 21, 2001 of seven additional counts in separate extortion schemes); Greg Tarver and Ecotry Fuller: not guilty
Sentences: Edwin Edwards: 10 years in prison, $250,000 fine; Stephen Edwards: 7 years in prison, $60,000 fine; Andrew Martin: 5 years, 8 months, $50,000 fine; Cecil Brown: 5 years, 6 months, $50,000 fine; Bobby Johnson: 5 years, 4 months, $50,000 fine
SIGNIFICANCE: Former governor Edwin Edwards, who had served four terms as Louisiana governor (1972-1980, 1984-1988, and 1992-1996), was convicted of heading an extensive conspiracy during and after his last term, to extort bribes in the awarding of riverboat gambling licenses. The four-month federal trial of a popular state governor was marked by intensive local media coverage, an anonymous jury, and by the fact that the mail fraud charges that linked the crimes were, dismissed.
Governor Edwin Edwards had established a record over four decades as a successful and popular Democratic politician in Louisiana. His first three terms were marked by numerous achievements, including revision of the complex state constitution in 1974, reduction of taxes, and a vast increase in state services. Nevertheless, the fun-loving and popular politician was enmeshed in several scandals, including accusations that his wife had received a $100,000 gift while he served a term in Congress.
Edwards was accused in 1999 of having managed a scheme to extort bribes in exchange for riverboat casino licenses. Although federal prosecutors claimed that at least four casino companies paid the bribes, only two casino owners admitted to making payments.
The Louisiana Riverboat Gaming Commission, from 1992 through early 1996, consisted of a seven-member panel appointed by the governor. This commission evaluated applications for a total of 15 riverboat casino gaming licenses provided for by state law. The commission did not grant the licenses, but would issue certificates of preliminary approval. The commission was empowered to award 15 certificates. The Riverboat Gaming Division of the Louisiana State Police would grant the actual licenses, after conducting its own investigation and hearing to determine the suitability of an applicant. In March 1993, the commission awarded eight preliminary certificates, and in June 1993, the commission awarded seven more. The second round was highly competitive and received wide media attention. Fourteen of the 15 applicants that received preliminary certification were granted licenses by the State Police. The 15th applicant was at first denied by the police, but awarded after appeal.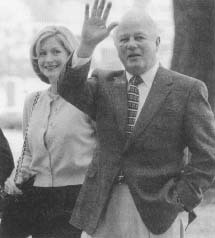 Governor Edwin Edwards and his wife Candy enter the courthouse where he was found guilty of extortion. (AP/Wide World Photos)
In early 1996, after Governor Edwards completed his fourth term, the state legislature created the Louisiana Gaming Control Board, with six members appointed by the new governor. The new board had one riverboat license to grant, and it received five applications for the single license that remained to be awarded.
Additional topics