Robert Johnson Estate: 1998
An Unknown Heir
Claim: That Claud Johnson was the biological son and sole heir of Robert L. Johnson
Claimant: Claud L. Johnson
Contestants: Robert M. Harris, Annye C. Anderson
Claimant's Lawyers: James W. Kitchens, Nancy A. Olson
Contestants' Lawyers: Stephen E. Nevas, Karla Kithcart
Judge: Jon M. Barnwell
Place: Greenwood, Mississippi
Dates of Hearing: October 12-15, 1998
Decision: In favor of claimant
SIGNIFICANCE: Mississippi probate and paternity laws helped to settle the estate of a major figure in American folklore.
When Robert Johnson was buried in a pauper's grave, it seemed unlikely that the itinerant musician would be remembered by anyone but the working people he had entertained at country dances and juke joints. In fact, Johnson's music and mysterious life became one of the enduring legends of American musical history, but not until decades after his death. The question of who should profit from his genius took even longer to answer.
Johnson was not well known outside of the Mississippi delta during his lifetime. His astonishing musical talent, coupled with the low opinion of blues musicians held by church going members of the African American community, stoked rumors that Johnson had sold his soul to the devil in order to play and sing so well. After he was poisoned by a jealous husband at a dance near Greenwood, Mississippi, and died horribly a few days later on August 16, 1938, it was whispered that Satan had claimed Johnson's soul. The 27-year old musician's entire known legacy consisted of 29 recorded songs. As country blues faded with the advent of other musical styles, so did interest in Robert Johnson.
In the 1960s, a resurgent interest in rural American music made the blues popular again. Johnson's mastery of the guitar and the imagery of his lyrics distinguished him from his contemporaries, creating plenty of curiosity about his mysterious life. The rediscovery also began generating a lot of money, not only from sales of Johnson's small but influential body of recordings, but also from enormous publishing and performance royalties generated whenever musicians like Eric Clapton and the Rolling Stones recorded new versions of his songs.
It was assumed that Johnson had died without leaving any heirs. In the 1970s, however, blues researcher Stephen LaVere located Johnson's half-sister, Carrie Thompson, who was living in Maryland, unaware of her long-dead brother's influence on popular music. By contrast, LaVere was aware of the profits inherent in a claim to Johnson's as yet unprobated estate, as well as the publishing rights to two photographs of the musician, whose likeness had never been seen by modern admirers. On November 20, 1974, Thompson assigned all of her rights to Robert Johnson's works, the photographs, and any other materials concerning Johnson she possessed over to LaVere. In return, LaVere agreed to pay Thompson 50 percent of all royalties collected by him as a result of his efforts to capitalize on Johnson's musical and artistic legacy. Thompson's claim to be Johnson's only surviving heir was legally assumed to be true. If any other descendants should come forward, sharing profits with them would be her responsibility, not LaVere's.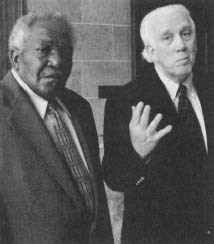 Claude Johnson (left), claimant to be the biological son and sole heir of legendary bluesman Robert Johnson. (AP/Wide World Photos)
In 1981, as Thompson's health failed, she granted power of attorney over her affairs to Annye Anderson, a half-sister by her father Charles Dodds' second marriage. In 1982, Anderson's lawyer advised her to choose an attorney in Mississippi, the place of Johnson's death, so that his estate could be officially probated. Thompson died in 1983, leaving Anderson and Thompson's grandson, Robert Harris, as the only known heirs to Johnson's legacy and revenue from the LaVere agreement. When a formal petition to open the estate of Robert L. Johnson in the chancery court of Leflore County, Mississippi, was finally filed on June 1, 1989, Anderson was appointed administratrix.
Additional topics