Vincent Gigante Trial: 1997
An Elaborate Ploy
---
---
Federal authorities claimed that the charismatic ex-boxer Mafia boss committed himself whenever they came close to indicting him. In a seemingly endless series of competency hearings, Gigante's lawyers stalled prosecution for nearly seven years, saying their infamous client was mentally unstable.
---
---
Finally in August 1996, a federal judge in New York found "The Chin" competent to stand trial. Gigante, twitching, trembling, and talking to himself in the courtroom, faced 21 charges ranging from racketeering and extortion to the murders of two mob rivals. Federal prosecutors also charged him with ordering several gangster murders as well as conspiring to murder three others. Notorious New York crime boss John Gotti was on Gigante's hit list.
Gigante reportedly plotted the executions because the target mobsters allegedly had violated a Mafia rule against committing murders not sanctioned by mob chieftains.
During his four-week trial in 1997, the question of the 68-year-old Gigante's sanity remained central, along with the issue of whether or not he actually ruled the Genovese family. Prosecutors claimed that Gigante feigned mental illness, all the while directing operations for the Genovese Family. The Genovese reportedly reigned the strongest of New York's Big Five crime families, including the Bonanno, Colombo, Gambino, and Lucchese clans.
Gigante's defense told jurors their client whispered to light poles and told psychiatrists he heard the voice of God. They argued that because the mobster clearly was mentally incompetent, he couldn't have the acuity to concoct sophisticated plans for kickbacks, bid-rigging, and murders. They claimed he was unable to issue orders to Genovese soldiers.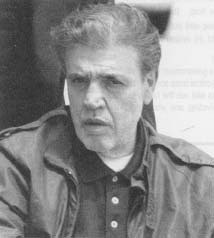 Vincent Gigante, reputed head of New York's Genovese crime family. (AP/Wide World Photos)
Additional topics