Snoop Doggy Dogg Trial: 1995-96
A Rising Rap Star
---
---
Later that day, with Lee and Abrams accompanying him, Broadus was driving his Jeep past a park when he encountered Woldemariam again. Accounts of the encounter would differ, but there was no dispute over the fact that Lee shot and mortally wounded Woldemariam. Police found Woldemariam's bloody corpse in a nearby carport. Murder charges were filed against Broadus, Lee, and Abrams, all of whom had disappeared into hiding. While Broadus's attorney negotiated the terms of a surrender and bail, the rap star appeared at a televised music awards ceremony on September 2 and shouted his innocence to a cheering audience. He turned himself in later that night.
---
---
The killing occurred as Broadus's alter ego, Snoop Doggy Dogg, was becoming the most popular rap star in America. His debut album, Doggystyle, released several months after the shooting incident, sold over five million copies. One of its songs, "Murder Was the Charge" was promoted heavily by his record label in a video that featured Snoop as a man who kills someone in self-defense, but is convicted of murder. The notoriety of Snoop Dogg's impending trial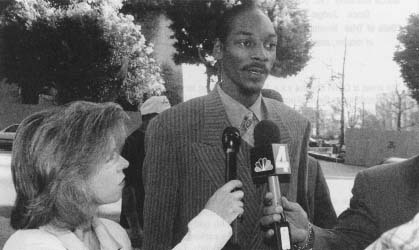 Rap singer Snoop Doggy Dogg talks with reporters as he arrives at the courthouse for his trial. (AP/Wide World Photos) fed his celebrity and attracted the ire of critics who blamed "gangster rap" for glorifying the gang-related violence plaguing urban communities. Rap artists responded that their work was an accurate reflection of existing mayhem, not its inspiration. Although he was concentrating on his musical career at the time of the Woldemariam shooting, Broadus had served prison time for selling crack cocaine and had been a member of the Long Beach Insane Crips, a longestablished Los Angeles street gang. Woldemariam belonged to an upstart gang called the Yerself Hustlers. Police theorized that the shooting incident was just one more of thousands of fatal gang-related confrontations. Other observers proposed that the Woldemariam shooting was a case of Snoop Dogg's life imitating his art.
Additional topics