Yolanda Saldivar Trial: 1995
Trial Focuses On Shooting Aftermath
---
---
The prosecution claimed Saldivar deliberately shot Selena as she attempted to flee Room 158. The state claimed Selena had finally been convinced that Saldivar was stealing from her. Selena had come to the motel to fire her employee.
What happened immediately after the shot rang out became fodder for national news media as well as a key question in the murder trial. (Sensational pre-trial publicity led presiding Judge Mike Westergren to issue a gag order, relocate the trial to Houston, and ban television cameras in the courtroom.)
---
---
Hotel desk clerk Shawna Vela described how Selena ran into the hotel lobby just after noon that cloudy day, leaving a 390-foot trail of blood. She testified that Selena screamed, "She shot me. She's in room 158. Lock the door or she'll shoot me again." The last word on Selena's lips before she collapsed was "Yolanda." She held in her hand the diamond ring Saldivar given her. Selena apparently had taken the ring off her finger to return to Saldivar.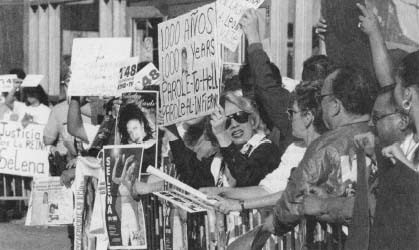 Fans of slain music star Selena wait outside the courthouse for the sentence of convicted killer Yolanda Saldivar. (AP/Wide World Photos)
Selena died less than two hours later on the operating table at a nearby hospital, where she had been rushed after the shooting. Meanwhile, Saldivar ran to the red GMC pick-up she had borrowed from her nephew for the trip from San Antonio. She drove the truck to the hotel lobby and parked there. As police arrived, she put the gun to her head. She held police at bay for nearly 10 hours. She begged hostage negotiators to shoot her before surrendering.
Days Inn housekeeper Norma Martinez testified for the prosecution how a bloody Selena fled the hotel room as Saldivar ran after her, pointing the gun at the singer and yelling "bitch!" The defense attacked Martinez's testimony, noting that she embellished her story with the accusation that Saldivar yelled "bitch." Martinez, a convicted thief, said she hadn't wanted to use a curse word when giving police her statement.
Tinker also doggedly chipped away at Vela's testimony and that of other hotel employees. Tinker was able to uncover testimony contradictions, but his point seemingly was lost. Every witness painted a picture of Saldivar as a ranting murderess relentlessly pursuing her prey.
The defense claimed the shooting was provoked by Selena's overbearing father, then covered up by overzealous Corpus Christi police doing sloppy work. Prosecutors accused Tinker of using "the squid defense," spreading ink about anyone but the predator herself. If Saldivar had shot Selena accidentally, why didn't she call 911 instead of the motel manager? Why didn't she run after Selena and try to help her after the shooting?
The prosecution presented 122 exhibits and called on 33 witnesses, including the hotel employees. Selena, Etc. staff asserted Saldivar was stealing from the business. Quintanilla family members told of the deteriorating relationship between Selena and her business associate.
The defense presented only five witnesses: three hotel employees; Saldivar's seventh-grade teacher, and the policeman who took Saldivar's confession. Tinker asked investigator Paul Rivera why he didn't consider audiotapes made between police and Yolanda when she held them at bay in her nephew's truck after the shooting. Rivera said he didn't know about them.
The audiotapes stand out as the most riveting portion of the trial. For five hours, police taped exchanges between their negotiators and a distraught, crying and wailing Saldivar as she held them at bay. She alleged Abraham Quintanilla hated her, spread rumors she was a lesbian and a thief, and had raped her. On tape she cried, "I did something very bad. I have disgraced my family." As the audio played in court, Saldivar sobbed.
Tinker claimed that the tapes proved Saldivar's confession was coerced. The tapes showed Saldivar told the truth when she claimed the shooting was accidental, a fact not mentioned in the confession. The prosecution said the tapes only proved that Saldivar was an unstable person and a pathological liar. The defense countered that before the police began recording the negotiations leading to Saldivar's surrender, she had said several times that she did not mean to shoot Selena. Prosecutor Carlos Valdez established that Saldivar never said the shooting was accidental until negotiator Larry Young suggested it.
Judge Westergren instructed the jury to consider only murder, as both sides had agreed. The prosecution wanted to placate public outrage by going for the toughest charge. The defense decided Saldivar's chances for acquittal rested on an all-or-nothing trial. The jury took only two hours to find Saldivar guilty. Although Tinker argued for probation, Saldivar received the maximum punishment of life in prison with no chance of parole until 2030.
In December 1995, Judge Westergren denied Saldivar's bid for a new trial. Saldivar appealed to the 14th Court of Appeals in Houston, which unanimously affirmed her conviction on October 1, 1998.
Suggestions for Further Reading
Day, Jim, and Mary Lee Grant. "Murder Conviction Upheld in Selena Case; Court Says Evidence Strong Against Saldivar." Corpus Christi Caller Times Online (October 2, 1998).
Patoski, Joe Nick. Selena Como La Flor. New York: Little, Brown and Company, 1996.
Reinert, Patty. "Saldivar, Convicted in Murder of Selena, Seeking Retrial." Houston Chronicle Online:1995.
Additional topics