Susan Smith Trial: 1995
Lover Takes Stand
---
---
In her handwritten confession, Smith wrote, "I was in love with someone very much, but he didn't love me and never would." The man she wrote about was a graphic artist named Tom Findlay, who enthralled the court with details of a stormy relationship that came to a head on October 25, 1994.
---
---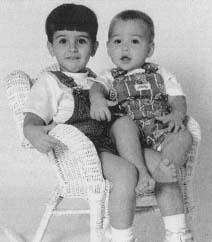 Alexander and Michael Smith, a month before their death. (AP/Wide World Photos)
Findlay admitted seeing Smith three times on that fateful day, and that she had been overwrought. According to the prosecution, this despair resulted from Findlay's decision to end their affair, and it was this that had driven Smith to murder. Pope produced as evidence a two-page letter from Findlay to Smith that had been recovered from the submerged car. It said, "There are some things about you which aren't suited for me, and yes, I am speaking about your children. I'm sure that your kids are good kids, but it really wouldn't matter how good they may be. The fact is, I just don't want children."
Under cross-examination, Findlay spoke compassionately about Smith. "The Susan that I know is very caring, very loving, a good friend to everyone, not just me," and he claimed they had remained on good terms even after their relationship had ended on October 15, when he had seen her kissing another man at a hot-tub party.
Key to the defense's case was Smith's dysfunctional background and its subsequent psychological impact on her. Defense witness Jenny Ward, a caseworker, told the court how, in 1989, she had investigated Smith's allegation that at the age of 15 she had been molested by her stepfather, Beverly Russell, charges that Russell had indeed admitted. "That is child sexual abuse," said Ward. "It is criminal in nature. The child said it, the perpetrator admitted it—that's a case."
Despite this, the Smith family refused to press charges against him, intimidated, Ward believed, by Russell's strong affiliations with the local Republican Party, and the matter was sealed. "That's the only order I've had sealed in 20 years," Ward said.
Her explanation of how sexual abuse in childhood, if not properly treated, can have adverse reactions in later life failed to impress Pope, who drew attention to the forceful manner in which Smith had conducted her relationship with Russell.
Ward was defiant. "I hold adults responsible for adult behavior," she said, but when pressed she was forced to admit that Smith had never appeared troubled or suicidal at the time.
Additional topics