Sheik Omar Abdel Rahman Trial: 1995-96
Sheik Arrested In Terrorist Plot
---
---
On July 2, 1993, however, Sheik Abdel Rahman was arrested after a tense standoff at the Jersey City mosque. He and 10 other men were indicted for plotting "a war of urban terrorism against the United States." Under a rarely used seditious conspiracy law, the Sedition Act of 1918, Abdel Rahman was charged with coordinating the group, whose alleged targets included the United Nations, New York's FBI office, and the Holland and Lincoln Tunnels. The defendants were not charged directly in the World Trade Center bombing case, but prosecutors accused Abdel Rahman of giving final approval for the attack. The defendants were also accused of planning to kill Egyptian President Hosni Mubarak, as well as several American politicians sympathetic to Israel.
---
---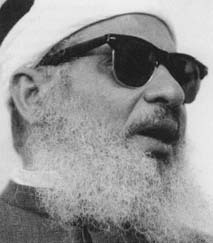 Sheik Omar Abdel-Rahman convicted of seditious conspiracy for plotting a "war of urban terrorism against the United States." (AP/Wide World Photos)
Not all of the charges centered on unrealized plots. In a controversial 1991 New York state trial, El Sayyid Nosair had been convicted of gun possession and assault, but acquitted of murdering militant Rabbi Meir Kahane in 1990. By claiming that he was involved in the newly uncovered plot, federal prosecutors indicted Nosair again for the Kahane murder without breaking the doublejeopardy rule against trying a defendant twice for the same crime. Borrowing a legal tactic used successfully against organized crime figures like John Gotti, the government charged Nosair under the Racketeer Influenced and Corrupt Organizations (RICO) Act, contending that the killing was part of a larger pattern of criminal activity.
Soon after the trial began on January 30, 1995, the defense was shaken by the news that Siddig Ibrahim Siddig Ali, Abdel Rahman's translator, would plead guilty. Following a plea bargain agreement, Siddig Ali implicated all but one of his codefendants, including the sheik, whom he accused of approving the bombing targets. Outraged defense lawyers Lynne Stewart, John Jacobs, Ramsey Clark, and Anthony Ricco protested that Siddig Ali's recent deal with the government had denied them a chance to attack his credibility in their opening statements; they were demanding a mistrial when even more sensational news arrived. On the same day that Siddig Ali's plea bargain was announced, Ramzi Ahmed Yousef was arrested in Pakistan. Yousef, the fugitive whom federal officials accused of directing the four men already tried and imprisoned for the World Trade Center bombing, was being returned to the United States to stand trial.
Additional topics