World Trade Center Bombing: 1993-94 & 1997
Verdicts Are Read
During closing arguments, Salameh's lawyer unexpectedly claimed that his client had been manipulated into unwittingly participating in the plot by the fugitive, Yousef. However, defense attorney Robert Precht's gamble did not pay off. After less than a week of deliberations, the defendants were found guilty of all 38 charges.
"Victory to Islam!" Ayyad shouted when the verdict was read.
The defendants dismissed their lawyers while awaiting sentencing. When they returned to court on May 24, 1994, all four were allowed to give statements.
Speaking in Arabic, each defendant protested that the trial was unfair. Salameh, Ayyad, and Abouhalima each gave long, angry political speeches, expressing their distaste for American society and their support for Islamic extremist movements around the globe. Unlike the others though, Ajaj called the bombing "a horrible crime." He then spoke for over two hours about atrocities committed against the Palestinian people. After witnessing and suffering from such violence, he said, he had no wish to act violently toward anyone.
Judge Duffy eventually cut him off. "All you've done in the past two and a half hours is convince me that anything you say is either a reworking of the truth or an out-and-out lie.… You were in this plot up to your ears."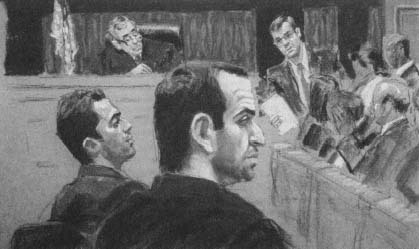 Eyad Ismoil (left) and Ramzi Yousef found guilty of bombing World Trade Center. (AP/Wide World Photos)
Although all of the crimes in the case were serious, none was punishable by terms of life imprisonment under New York law. When the judge passed sentence, however, it was clear that the convicted men would spend the rest of their lives in prison.
The judge subtracted the ages of each of the six dead victims from an average life expectancy of 60 years. Together, according to this formula, the deceased had been denied a total of 180 years of possible life. To this sum, the judge added mandatory 30-year penalties for each of the two convictions of assault on a federal officer. The defendants were thus sentenced to 240 years in prison each, with no possibility of parole.
Ajaj appealed his conviction with the help of a new court-appointed attorney. Looking again at one evidentiary notebook on explosives, upon which the government had built much of its case, analysts found that Ajaj's handwriting did not match the incriminating notations in the book.
Ajaj also claimed that he had been planning to mail the other military manuals in his possession to the family of a Jordanian, who had been killed fighting in Afghanistan. He pointed out that the books were only part of a bundle of mail he had agreed to post for other Arabs he had met in Pakistan, whose mail systems to other countries were not as reliable as those of the U.S. Postal Service. Ajaj admitted that he had met Yousef, but insisted that the fugitive had neither revealed his real name nor spoken of any violent intentions.
Additional topics