World Trade Center Bombing: 1993-94 & 1997
Van Deposit Leads To Arrests
Forensic investigators soon determined that the blast was caused by common explosives, detonated in a yellow van. They found the vehicle's charred identification number and traced it to a Ryder Rental Company agency in New Jersey. A few days later, the man who had rented the van told a federal agent posing as a rental clerk that the vehicle had been stolen. When the "clerk" refused to return a $400 deposit, the customer left in a huff. Federal agents grabbed him at a nearby bus stop and held him without bail.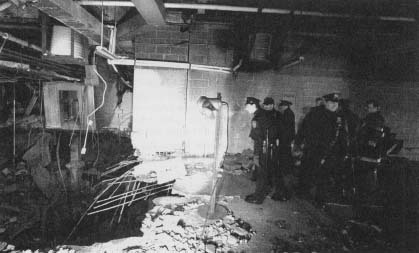 Police and firefighters inspect the bomb crater inside the World Trade Center. (AP/Wide World Photos)
The suspect was Mohammed Salameh, a Jordanian living in the United States with an outdated tourist visa. Other arrests quickly followed. Nidal Ayyad, a chemical engineer whose business card was discovered in Salameh's pocket, was also taken into custody. Bilal Alkaisi, who shared a joint bank account with Salameh and Ayyad, surrendered to the FBI. A fourth man, Mahmud Abouhalima, was arrested in Cairo and deported to the United States to face indictment. Abouhalima showed signs of having been tortured by Egyptian police. His American lawyer, William Kunstler, argued unsuccessfully that any admissions obtained by Egyptian authorities from Abouhalima were gotten under duress and should be ruled inadmissible. A fifth suspect, Ibrahim Elgabrowny, was accused of carrying false passports and resisting arrest. He was indicted with Salameh and Ayyad on March 19.
A Palestinian, Ahmad Ajaj, was also arrested, on May 6, 1993. The previous year, he had been detained at Kennedy International Airport for having a doctored passport and military manuals containing bomb-making instructions. After six months in detention, he had been released. When investigators learned that he had traveled to the United States on the same flight as Ramzi Ahmed Yousef—another suspect who had been seen with Salameh in the yellow van and whose fingerprints were found on the pages of the manuals in Ajaj's luggage—Ajaj was arrested again. Yousef, in the meantime, had disappeared. The FBI placed him on its 10-Most-Wanted list and a $2 million reward was offered for information leading to his arrest.
Additional topics