Masson v. Malcolm et al.: 1993 & 1994
Back And Forth In The Courts
Masson's case centered around six disputed quotes. In one of the quotes, Malcolm wrote that Masson said he was "like an intellectual gigolo." In another, Masson supposedly said he wanted to turn the house of Anna Freud into a "place of sex, women, fun." Malcolm argued that although some of the quotes were not exactly what Masson had said, they captured the essence of his meaning. She based her article on 40 hours of taped interviews with Masson and typewritten notes from unrecorded conversations. Masson argued that some of the recorded statements were taken out of context, and he denied ever making the comments in the written notes.
A California district court refused to let a jury hear the case, ruling that the six quotes were substantially true or rational interpretations of Masson's intent. The Ninth Circuit Court of Appeals subsequently upheld this judgment. Masson then took his case to the Supreme Court. In Masson v. New Yorker Magazine, Inc. (501 U.S. 496, 1991), the court unanimously found that the lower courts had erred in dismissing the case.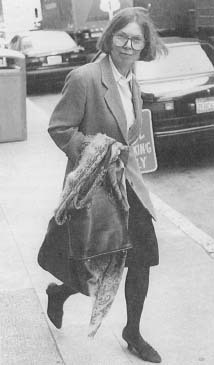 Journalist Janet Malcolm sued for libel. (AP/Wide World photos)
The Supreme Court did allow that not all misquotes were automatic grounds for a libel suit. A misquote first had to be false or substantially alter the speaker's meaning. If that were the case, a jury could then decide if the misquote met the grounds for libel against a public figure—that a statement is knowingly false or printed with reckless disregard for its truth and injures the plaintiff's reputation. The Supreme Court ordered the case returned to the district court so a jury could hear the facts on five of the six disputed quotes.
The libel trial finally began on May 6, 1993, with Malcolm and the New Yorker as defendants. Masson was now seeking $7.5 million in damages. Championing the plaintiff's case, Masson's attorney, Charles 0. Morgan, questioned Malcolm's journalistic techniques. She admitted that she had combined quotes from interviews made days apart, rearranged words, and relied on memory for one of the disputed quotes.
In response, defense lawyer Gary Bostwick portrayed Masson as being untrustworthy. Years earlier, he had denied ever making some of the disputed quotes printed in the article, but Malcolm's tapes showed she had indeed quoted him correctly. Masson's image as an egotistical playboy who in the past had burned professional bridges was also used as a defensive ploy.
On June 3, the jury returned with a mixed decision. It found that Malcolm had made up the five quotes, and two of them did meet the standard for libel. The jury also found that the New, Yorkerhad not been responsible for the validity of Malcolm's piece. But the jury deadlocked on awarding damages for Masson. Judge Eugene F. Lynch then ordered a new trial to determine the libel award, saying in this case that liability and damages could not be separated.
Additional topics