John Gotti Trial: 1992
Gotti Eludes Conviction
---
---
Gotti's RICO trial began in August 1986. The prosecution case relied heavily on testimony by convicted felons. All were admitted liars who agreed under defense crossexamination that they hoped their testimony was buying them shorter sentences. One informer falsely denied ever working for the FBI. Another openly perjured himself, accusing the prosecution of offering him drugs in prison in return for testimony. After a long and acrimonious trial in which the defense repeatedly fired crude personal insults at the prosecutors and outshouted the judge's orders, Gotti was acquitted in March 1987.
---
---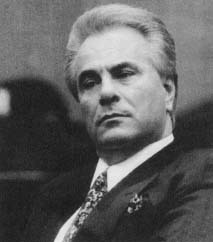 John Gotti avoided prison three times before he was finally convicted. (AP/Wide World Photos)
Federal prosecutors immediately announced that Gotti would be indicted for a different set of racketeering crimes. When Gotti next appeared in court in January 1990, however, he faced assault and conspiracy charges in the wounding of John O'Connor, an officer of the United Brotherhood of Carpenters. The corrupt union officer had ordered a Manhattan restaurant wrecked for resisting his bribery demands, unaware that the restaurant had ties to the Gambino crime family. Gotti was accused of ordering O'Connor shot in retaliation. If convicted, Gotti faced a sentence of 15 years to life as a thriceconvicted, "persistent felony offender."
Additional topics