The Trial
In a pretrial hearing, the prosecution called as expert witness Dr. Harry Hollein, an expert in acoustics, who testified that the recorded shot on the 911 tape was fired from the. 22 calibre Winchester rifle owned by Jim Mitchell. Despite efforts by defense attorney Michael Kennedy to discredit the testimony, the judge decided to permit it. Another prosecution witness, Lucien Haag, a ballistics expert, was also allowed to testify.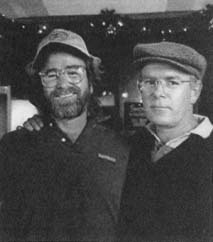 Jim Mitchell (right) with his brother Artie in front of the O'Farrell Theater in San Francisco. (AP/Wide World Photos)
The prosecution built a case on ballistic and acoustic evidence, supplementing it with a video animation reconstructing the complex routes of the various shots. The video itself was controversial, and only admitted after strenuous debate.
The defense built its case around the warm relationship between the two brothers and character testimony regarding the many acts of charity and public works by both of the Mitchells. The defense brought out the fact that Jim had once saved Artie from drowning. Prosecution witnesses included the 911 operator who had heard the gunshots, police who responded to the call, and the experts who identified the shots and the bullets, as well as the county coroner, and other forensics experts. In addition, Prosecutor Posey introduced friends of Artie Mitchell who testified about the deteriorating relationship between the brothers and about Artie's drug and alcohol problems. However, when Posey questioned Julie Bajo, her testimony was self-contradictory. The jury had other reasons to doubt her veracity, including her admission that she had been rolling a joint when the first shots were fired, and that she later posed topless for a magazine interview regarding the killing. The defense found her testimony so helpful to their side that they chose not to cross-examine.
Additional topics