Manuel Noriega Trial: 1991
Cartel Contacts Revealed
---
---
Floyd Carnton, Noriega's personal pilot, recounted how two prominent Medellin cartel members, Pablo Escobar and Gustave Gavira, had approached him through an intermediary to "go and talk with Noriega" about an arrangement which would allow Carlton to fly cocaine to Panama under the general's authority. Carlton said that Noriega "told me he didn't want his name involved in this type of problem, and that if something happened he would know nothing about it," but, he added later, "Nothing is to be done without notifying me." According to Carlton the cartel originally offered Noriega between $30,000 and $50,000 for each flight of cocaine. When he relayed this news to Noriega the general exploded: "Either they're crazy or you are! Not for that kind of money. I won't allow it to happen for less than $100,000 a flight." Over the years, Carlton estimated that Noriega received $5 million in kickbacks.
---
---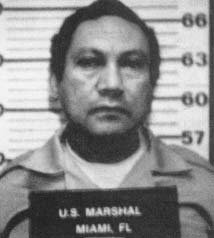 Former Panamanian dictator General Manuel Noriega being booked in Miami for charges of drug trafficking, conspiracy, and racketeering. (Archive Photos)
When Rubino reproved Carlton because no one else was present at these alleged meetings, the witness snapped back, "Mr. Rubino, this was a cocaine deal, we weren't talking about cookies!" Counsel fared slightly better in getting Carlton to admit that Noriega had been angered to learn of illicit money-laundering flights into Panama.
By far the most prominent witness against Noriega was Carlos Ledher Rivas, the only founding member of the Medellin cartel ever to face charges in an American court. Amid heavy security, Ledher, whose 1988 conviction for drug trafficking brought him a sentence of life plus 135 years, said Noriega offered the cartel a cocaine pipeline to the United States." In addition to paying the general $1,000 for every kilo of cocaine that passed through the country, the cartel agreed to pay Noriega 5 percent of all profits deposited in Panamanian banks—a sum that other witnesses said often amounted to $60 million a week.
Ledher explained the cartel's plight: "We were desperately looking for new routes. We had no point of transshipment for the cocaine that was piling up in Colombia." Under questioning from prosecutor Guy Lewis, Ledher elaborated on Noriega's alleged involvement with Fidel Castro, whom he said was also dealing with the Medellin cartel. The doubtful pertinence of much that Ledher had to say aroused defense suspicions that the witness was testifying very much out of self-interest, prepared to blacken Noriega's name at all costs in hopes of getting his own jail sentence reduced.
After establishing the existence of such a quid pro quo, Rubino challenged Ledher about Medellin involvement with the Nicaraguan Contras, a line of questioning that clearly unsettled the witness. With great reluctance, he said, "To the best of my recollection, there was some contribution to the Contra anticommunist movement." When Rubino pushed for an exact figure, Ledher hedged and tried to dodge, until finally saying, "It could have been around $10 million." Rubino was prevented from pursuing this source of potential embarrassment to the U.S. government, which had also been funding the Contras, on grounds that it was not relevant.
Additional topics