Marion Barry Thal: 1990
Violent Relationship
---
---
Defendant: Marion Barry, Jr.
Crime Charged: Drug offenses (14 counts)
Chief Defense Lawyers: Robert Mance and Kenneth Mundy
Chief Prosecutors: Judith Retchin and Richard Roberts
Judge: Thomas Penfield Jackson
Place: Washington, D.C.
Dates of Trial: June 4-August 10, 1990
Verdict: Guilty on 1 count of cocaine possession; Not guilty on 1 count; Mistrial on remaining 12 counts
Sentence: 6 months imprisonment, $5,000 fine, 1 year probation
---
---
SIGNIFICANCE: The sensational arrest of Marion Barry guaranteed that the ensuing trial would be high drama. But almost no one could have predicted such a remarkable verdict or Barry's political comeback.
For years Washington, D.C., had buzzed with rumors that Mayor Marion Barry had a drug problem. Concrete proof came January 18, 1990, when Barry entered Room 726 at the Vista International Hotel to keep an assignation with ex-girlfriend Rasheeda Moore. After rejecting Barry's sexual advance, Moore produced a pipe for smoking cocaine. (Barry had earlier given Moore $20 to buy some crack cocaine.) Seconds after Barry put the pipe to his lips, half a dozen FBI agents and other police officers rushed into the room and arrested him. The sting had worked perfectly: Every incident had been captured on videotape.
On June 19, 1990, prosecutor Richard Roberts outlined Barry's six-year involvement with drugs, emphasizing the mayor's hypocrisy:
"During the course of this trial, you will learn that while the defendant preached "Down with dope!' he was putting dope up his nose.… Every person has two sides.… This case is about the other side, the secret side of Marion Barry."
The star prosecution witness was Charles Lewis, a confessed drug dealer. He first met Barry in the Virgin Islands in June 1986. "He asked me if I could get some rocks [crack cocaine].… I told him yes." According to Lewis, Barry's drug binge included straight cocaine and marijuana, as well.
Chief defense counsel Kenneth Mundy, deriding Lewis' claim that conscience had prompted his testimony, scoffed, "You didn't wake up and start cooperating [with the authorities] until you got convicted in the Virgin Islands, is that correct?"
"Both things happened at the same time."
"You were facing big time weren't you?"
"The reason I waited.…"
"Is that a yes or a no?" barked Mundy.
"Yes," Lewis admitted.
For three days Mundy kept up the attack, extracting one damaging concession after another from Lewis. It was a superb feat of advocacy, one which gave the prosecution pause for thought: Perhaps their case wasn't so airtight after all?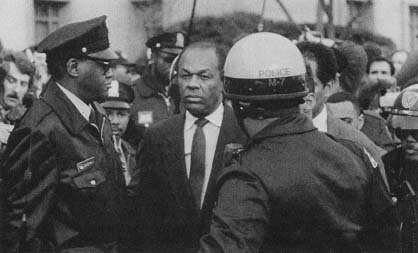 Mayor Marion Barry is escorted by police following his appearance before a federal magistrate. (AP/Wide World Photos)
Additional topics