Pete Rose Trial: 1990
Some Losses Greater Than Winnings
---
---
Rose's diehard fans were astonished to learn still more. By entering into partnerships on Pick-6 horse-track bets on 10 occasions between 1984 and 1987, an activity that Rose had previously denied, he had won $136,945.30. But the irony was that, while gross income amounts as high as $59,788.40 (in 1984) were not reported, he was not liable for failure to report the figures because his losses were greater than his winnings.
---
---
In a jam-packed courtroom on July 19, Judge Spiegel handed down Rose's sentence:
We must recognize that there are two people here: Pete Rose, the living legend, the all-time hit leader, and the idol of millions, and, Pete Rose, the individual who appears today convicted of two counts of cheating on his taxes. Today, we are not dealing with the legend. History and the tincture of time will decide his place among the all-time greats of baseball. With regard to Pete Rose, the individual, he has broken the law, admitted his guilt, and stands ready to pay the penalty.
The judge then sentenced Pete Rose to five months in a federal correctional institution, to be followed by three months in a community treatment center or halfway house. In addition, he would pay a $50,000 fine and serve 1,000 hours of community service.
Rose said he would not appeal. "I accept my punishment," he said. "I will serve my sentence, pay my debt to society, and get on with my life." The sentence did not permit any parole.
Rose served his five months at the Southern Illinois Prison Camp at Marion. His days were spent in the prison machine shop, where he earned 11 cents an hour fabricating and welding metal. "He gets in there and works just as hard as the rest of them," said the assistant warden.
When released January 7, 1991, Rose began his 1,000 hours of community service, working as an assistant in physical-education programs in five Cincinnati public schools and at recreational centers in the city's lower-income areas.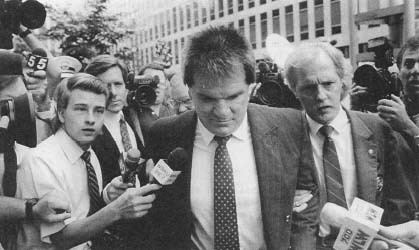 Pete Rose surrounded by reporters following his conviction for failing to report income on his tax returns. (AP/Wide World Photos)
On January 10, the board of directors of baseball's Hall of Fame voted unanimously that anyone on baseball's permanently ineligible list could not be eligible for the Hall of Fame. The rules change effectively barred Pete Rose, who would have become eligible for election into the hall by the Baseball Writers' Association of America the following December.
However, Rose's popularity with baseball fans gained momentum as the 1990s came to an close. In 1999, he was voted to the All-Century Team—a team of the greatest baseball players of the 20th century—by fans and baseball writers. Despite his ban from baseball, Commissioner Bud Selig allowed Rose to be a part of the ceremony honoring the team at the 1999 All-Star Game in Boston. When Rose was introduced, he received the loudest and longest ovation of any player honored.
Immediately following the ceremony, Rose was interviewed on live television by NBC's Jim Gray. Gray's seemingly antagonistic questions about Rose's gambling problems upset many fans and players, prompting further sympathy from his fans for Rose's continuing quest to once again be part of Major League Baseball. However, at the start of the 2000 baseball season, that dream remained as elusive as ever.
—Bernard Ryan, Jr. and
Ron Formica
Suggestions for Further Reading
Andrews, A.E. "Bittersweet Homecoming." U.S. News & World Report (January 14, 1991): 14.
Callahan, T. "Justice for a Baseball Felon." U.S. News & World Report (July 23, 1990): 15.
Corelli, R. "The Fall of a Titan." Maclean's (July 30, 1990): 38.
Goodman, M.S. "Pete Rose Longs to Rise Again." People Weekly (September 2, 1991): 47.
Leerhsen, C. "All is Not Lost in Cincinnati." Newsweek (July 30, 1990): 61-62.
Lieber, J. and S. Wulf. "Sad Ending for a Hero." Sports Illustrated (July 30, 1990): 22-25.
Reston, James, Jr. Collision at Home Plate: The Lives of Pete Rose and Bart Giamatti. New York: HarperCollins, 1991.
Rose, Pete, and Roger Kahn. Pete Rose: My Story. New York: Macmillan Co., 1989.
Additional topics