Oliver North Trial: 1989
Unhelpful Witnesses, Missing Funds
Defendant: Oliver Laurence North
Crimes Charged: Obstruction of justice, corruption, and perjury
Chief Defense Lawyers: Barry Simon and Brendan V. Sullivan, Jr.
Chief Prosecutors: Michael Bromwich, John Keker, and David Zornow
Judge: Gerhard Gesell
Place: Washington, D.C.
Dates of Trial: January 31-May 4, 1989
Verdict: Guilty, 3 counts; Not guilty, 9 counts
Sentence: $150,000 fine, 2 years probation, 1,200 hours of community service
SIGNIFICANCE: "I was only following orders" has been an excuse of soldiers facing disciplinary action since time immemorial. But the trial of Colonel Oliver North added a new dimension, as a nation wondered, "just who did issue those orders?"
In 1985 the administration of President Ronald Reagan embarked on a plan to secure the release of American hostages by illegally selling arms to Iran. Funds from those sales were channeled to the Contra guerrillas in Nicaragua who were attempting to overthrow that country's leftist government. When news of this deal broke in 1986, a Congressional hearing followed. Under promise of immunity, Oliver North, a Marine Corps lieutenant colonel and member of President Reagan's National Security Council (NSC), provided an account of the U.S. government's role. North's emotional performance captured the public imagination but left doubts about his veracity. A grand jury later charged him with having lied to Congress, obstructed justice, and received kickbacks.
Jury selection and other legal gyrations delayed opening arguments until February 21, 1988. Chief Prosecutor John Keker laid out the government's case, alleging that North had shredded documents and altered computer records, knowing them to be vital to the Iran-Contra investigation, before visiting U.S. Attorney General Edwin Meese III. There, he "met with the attorney general and some of his top assistants, and when they asked him questions about something very important to know, he lied.…The evidence in this case is going to show that these were crimes, and the reason for these crimes was that Colonel North was covering up crimes he had already committed."
Defender Brendan Sullivan's response was simple and direct. His client "never broke the law. He acted within the law at all times. He followed the instructions of the highest ranking officials of the United States of America. He protected the secrets that he was ordered to protect, to save the lives of many people, many sources, many relationships. That's what he was ordered to do, and he followed his orders as any Marine Corps officer and any officer that worked at the National Security Council [would do]." Sullivan painted a stirring portrait of North as a Vietnam war hero, whose personal valor under fire had led to the heady promotions that came his way.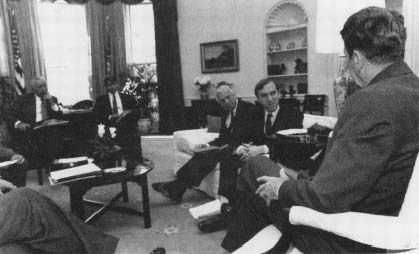 National Security briefing in the Oval Office with Oliver North at rear. (Courtesy, Ronald Reagan Library)
Additional topics