Jeffrey Robert MacDonald Trial: 1979
The Trial, At Last, Drama In Court, Murderer Sues Writer
---
---
Defendant: Jeffrey Robert MacDonald
Crime Charged: Murder
Chief Defense Lawyers: Bernard L. Segal and Wade Smith
Chief Prosecutors: James L. Blackburn and Brian Murtagh
Judge: Franklin T. Dupree
Place: Raleigh, N.C.
Dates of Trial: July 16-August 29, 1979
Verdict: Guilty
Sentence: Life imprisonment
---
---
SIGNIFICANCE: The horror of the triple murder and the long delay between the crime and the trial alone were sufficient to make this one of the most notorious trials in recent history. The subsequent best-selling book Fatal Vision by Joe McGinnis, written with the cooperation of the murderer, seared the case into the memories of many Americans. Jeffrey MacDonald's suit against McGinnis for betraying his trust in writing a book that portrayed him as guilty, raised ethical and legal issues about "checkbook" investigative journalism.
Few murder defendants have so assiduously courted the media as Jeffrey MacDonald. Through books, television, newsprint, and even civil litigation, he made his name a household word. For more than two decades, America watched and read about this enigmatic ex-Green Beret. Most remained convinced he was guilty as charged, and yet doubts persisted.
The crime was horrible: a young pregnant mother, Colette MacDonald, and her two young daughters, hacked and battered to death at their home on Fort Bragg Army Base in Fayetteville, North Carolina, on February 17, 1970. Immediately suspicion fell on the woman's husband, Captain Jeffrey MacDonald, a 26-year-old medical doctor. He told of being attacked by four hippie-type intruders: two white men, one black, and a white woman with long blonde hair who wore a large floppy hat, high boots, and carried a candle. Throughout the ordeal she chanted, "acid is groovy… kill the pigs." To ward off blows from an ice pick, MacDonald wrapped a blue pajama jacket around his hands. Even so, he sustained multiple stab wounds.
The superficial nature of MacDonald's injuries—none required stitching—and the remarkably tidy condition of the room in which he claimed to have fought for his life, convinced military detectives that his story was false. Also, they wanted to know how fibers from his blue pajama jacket came to be found beneath Colette MacDonald's body?
On May 1 the army announced that MacDonald was being charged with three counts of murder. The preliminary hearing began July 6 and soon revealed a seriously flawed investigation into the death of Colette MacDonald and her two daughters. So embarrassing were the disclosures of official negligence that, in October 1970, the army dismissed all charges against MacDonald.
Shortly afterwards, in a remarkable display of nerve, MacDonald appeared on a national TV talk show and lambasted the army for its ineptitude. He came across as indignant about his own mistreatment and indifferent towards the fate of his family. Galvanized by the criticism, detectives resumed their inquiries. The upshot was a mammoth report in 1972, which again concluded that MacDonald was guilty of murder. In July 1974, a grand jury was impaneled and returned three murder indictments against him.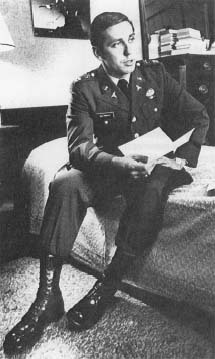 Jeffrey MacDonald after being freed of murder charges. He was found guilty of the crime nine years later. (North Carolina Division of Archives and History)
Additional topics