Leonard Peltier Trial: 1977
Myrtle Poor Bear Irrelevant
With the prosecution resting after calling 25 witnesses during 15 days of evidence, the defense called Myrtle Poor Bear. A girlfriend and confidante of Peltier, she had been a known informant to the FBI on earlier investigations and had received FBI protection. Her affidavits describing the killings had been instrumental in the U.S. Justice Department's gaining the extradition of Peltier from Canada. Now, out of hearing of the jury, she testified as an "offer of proof" by the defense to show the judge why her testimony was relevant and should be heard by the jury. She signed the affidavits, she said, because two FBI men "told me that they were going to plan everything out and if I didn't do it I was going to get hurt." The judge found her false affidavits "irrelevant."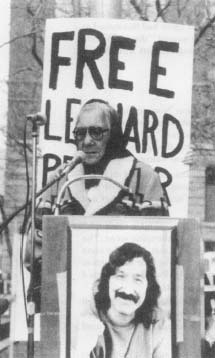 Hazel Little Hawk speaks at a rally for Leonard Peltier at the federal building in St. Paul, Minnesota. (AP/Wide World Photos)
Finally, defense witnesses from the FBI office in Rapid City testified on confusing radio transmissions, during the shootout, about a red pickup truck or red-and-white pickup or red-and-white van and what kind of vehicle was parked where. Cross-examining, the prosecution blamed incompetent record keeping in the office for the inconsistencies.
Ruling before the defense summation, Judge Benson prevented Peltier's lawyers from disclosing the inconsistencies of the ballistics reports. He also prohibited the summations from using direct quotations from the trial's 5,000 pages of transcript, preventing the defense from citing specific discrepancies in prosecution testimony.
On April 18, 1977, after deliberating for six hours, the jury found Peltier guilty on two counts of murder in the first degree. Sentenced to life imprisonment on each count, he appealed. His extradition from Canada had been illegal, argued his attorneys, because it was based on false affidavits "obtained by the government through coercion and deceit and known by the government to be false." The appeal was denied by the U.S. Court of Appeals. The Supreme Court of the United States refused to hear the case.
Peltier escaped from the federal penitentiary at Marion, Illinois, in July 1978. Recaptured, he was tried on November 14, 1979, in U.S. District Court in Los Angeles. He was acquitted of conspiracy and assault but sentenced to five years for escape and two years for possession of a weapon by a felon, both sentences added to his life terms.
Additional topics