Tony Boyle Trial: 1974
Annette Gilly Confesses
---
---
Bargaining her way out of the electric chair, Annette Gilly pleaded guilty and confessed that she and her father had arranged Jock Yablonski's murder at the request of UMW officer William Prater. The ailing Silous Huddleston also confessed and pleaded guilty. Huddleston told the FBI that he and Prater were told to kill Yablonski by Albert Pass, secretary-treasurer of the UMW and a member of the union's national executive board.
---
---
As the conspiracy unfolded, the evidence began to point toward the union leadership. But Tony Boyle had more immediate legal problems. In March 1972, he was found guilty of making illegal political contributions with union funds. In May, the results of the 1969 union election were overturned. Boyle lost his bid for re-election. In June, the same month that the U.S. Supreme Court declared the death penalty unconstitutional as it was then applied in most states, Boyle was sentenced to two concurrent five-year prison terms and fined heavily. A month later, as Boyle planned his appeal, Prater and Pass were indicted for murder.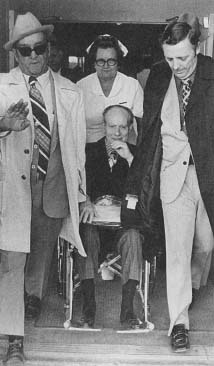 Former UMW head Tony Boyle en route to a pretrial hearing on murder charges in the death of Jock Yablonski. (AP/Wide World Photos)
William Prater came to trial in March 1973. Still unsentenced and facing three life terms, gunman Paul Gilley testified for the prosecution. He said that Prater had arranged and paid for Yablonski's murder, allegedly on Boyle's orders. Retired miners testified that they had kicked back their pay from a nonexistent union "Research & Information" committee to Prater. The jury was convinced that this $20,000 was used to pay for Yablonski's death. William Prater was convicted on three counts of murder.
Albert Pass was tried two months later. In addition to the prosecution's array of forensics experts, manipulated pensioners, confessed killers, and handlers of the blood money, prosecutor Sprague called Prater, who had decided to confess at the urging of his family. The witness implicated Pass, who had told Prater to organize the killing and had paid Silous Huddleston when the plot was in motion. The jury found Albert Pass guilty on three counts of murder.
Unlike other conspirators, Pass did not aid investigators after his conviction, but the case was not dead. On September 6, 1973, Tony Boyle was arrested for instigating the Yablonski murders. Before he could be extradited to Pennsylvania for trial, however, Boyle swallowed an overdose of sedatives. and nearly died. He recovered in the protective custody of a District of Columbia prison hospital, charged with the federal crime of violating Yablonski's civil rights, but still unarraigned on Pennsylvania's charge of murder.
Additional topics