Charles Manson Trial: 1970-71
Atkins Reverses Course, A "helter Skelter" Scheme, Case Draws Presidential Remark, Manson Speaks
---
---
Defendants: Charles Manson, Susan Atkins, Patricia Krenwinkel, Leslie Van Houten
Crimes Charged: First-degree murder and conspiracy to commit murder
Chief Defense Lawyers: Irving Kanarek (for Manson), Daye Shinn (for Atkins), Paul Fitzgerald (for Krenwinkel), Maxwell Keith, Ronald Hughes, and Ira Reiner (for Van Houten)
Chief Prosecutor: Vincent Bugliosi and Aaron Stovitz
Judge: Charles H. Older
Place: Los Angeles, California
Dates of Trial: June 15, 1970-March 29, 1971
Verdict: Guilty
Sentence: Death, later transmuted to life imprisonment
---
---
SIGNIFICANCE: The killings for which Charles Manson and his followers were convicted made him one of the century's most infamous murderers. The prosecution's case provided an example of how the U.S. Supreme Court's Aranda ruling is applied in cases involving multiple defendants. The trial was one of the longest and costliest in California history.
On August 9, 1969, police in Los Angeles, California, responded to a hysterical call from actress Sharon Tate's housekeeper. When officers arrived at the house rented by Tate and her husband, film director Roman Polanski, they found the corpses of the pregnant actress and three house guests: Jay Sebring, Abigail Folger, and Voyteck Frykowski. All had been stabbed repeatedly. Steven Parent, a friend of the groundskeeper, was found shot to death outside in his car. A day later in another part of the city, Leno and Rosemary LaBianca were found violently stabbed to death in their suburban home. All seven deaths were eventually linked to a scheme whose savagery was surpassed only by the peculiarity of its motive.
The first tips came from motorcycle gang members, who told police about a commune of young people called the "Family" living in the desolate California hills. The commune was led by an ex-convict named Charles Manson, who had bragged of committing murders that resembled the Tate killings. Two prison inmates similarly told authorities that their cellmate Susan Atkins had described to them in horrifying detail how she and fellow members of the "Family" had killed Tate and her guests, the LaBiancas, and others.
In return for a promise of immunity, Atkins repeated her story to a grand jury in December 1969, implicating Manson and others in the Tate-LaBianca killings. Ironically, Manson was already in jail. He had been arrested in October and charged with receiving stolen property. "Family" members Patricia Krenwinkel and Leslie Van Houten were indicted on murder charges and arrested. Charles "Tex" Watson, whose bloody fingerprint was found at the Tate house, was arrested at his parents' home in Texas. Watson's attorney forestalled his extradition for nine months, arguing that pretrial publicity made it impossible for Watson to get a fair trial in California. The Los Angeles district attorney decided to prosecute the others charged in the Tate-LaBianca slayings without waiting for Watson's arrival.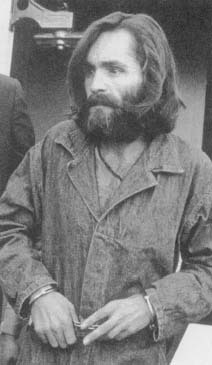 Charles Manson, convicted of the murder of Sharon Tate and six others. (Archive Photos)
Additional topics