Candace Mossier and Melvin Lane Powers Trial: 1966
Sexual Perversions
---
---
A fortune of that magnitude meant that Mossier and Powers were able to afford the very best in legal talent. Legendary Texas attorney Percy Foreman was imported to head the powerful defense team. He maintained that Jacques Mossier's sexual appetites—"transvestitism, homosexuality, voyeurism and every conceivable type of perversion, masochism, sadism,"—had caused his own death; he was murdered, said Foreman, by a slighted homosexual lover. In support of this claim, Foreman referred to a human hair found on Mossier's body, which, despite exhaustive investigation, had never been identified. Foreman later broadened his scope of potential killers to include disaffected business partners, saying that as "mastermind" of a great financial empire, Mossier was hated by "thousands of people."
---
---
Prosecutors believed otherwise. Their version had Powers flying into Miami on the night of the murder, killing Mossier, then leaving at eight o'clock next morning. And they had plenty of witnesses to back up the claim. Mary Alice Domick, a National Airlines ticketing agent in Houston, recalled selling Powers a ticket to Miami on June 29, 1964. Stewardess Barbara Ann Barrer confirmed that Powers was aboard, carrying just a brief case; and the manager of a lounge near Mossier's home placed Powers in his bar between 7:00 and 8:30 P.M. on the night of the killing.
At Miami International Airport, police found Candy Mossier's abandoned 1960 Chevrolet. Fingerprint expert Robert Worsham testified that of 55 prints found in the car, six belonged to Powers. Foreman wasn't impressed. "You do not know whether Melvin Powers drove that car in June, May, or April in Miami, do you?" he asked.
"No," admitted Worsham.
Another fingerprint specialist, David Plowden, wasn't so easily dismissed. He had located Powers' palm print on the kitchen counter in the murdered man's home. Mossier's handyman Roscoe Brown testified that he had wiped that counter down just hours before the killing. Brown also disclosed a telephone conversation with Candy Mossier after the murder, in which she said, "You've got to say you didn't clean that sink … remember, a man's life is at stake, anything you say can hurt him."
Defense attorney Clyde Woody struggled to salvage the situation. "Didn't Mrs. Mossier tell you, 'Don't let them put words in your mouth?'"
"Right," said Brown.
"Didn't she say, 'I would do the same for you if I thought you were innocent?'"
"That's right," Brown answered.
Earlier in the trial, Freddie Duhart, a colorful ex-convict from Houston, testified that Powers had offered him $10,000 to find a hired killer. "I told him you could get someone from Mexico and put the body in the trunk of the car—nobody checks the trunk of a car at the border—and give a man $50 to $100 to take the body back up in the mountains and throw if off a volcano."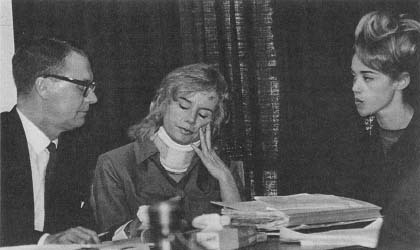 Candace Mossier, wearing a neck brace, was accused of murdering her husband with the help of her nephew, Melvin Powers. (AP/Wide World Photos)
Galveston, Texas, resident Edward Diehl also swore that Powers had solicited him to kill Jacques Mossler, with the promise that "there's $5,000 in it for you."
Yet another convicted felon, Billy Frank Mulvey, pointed the finger of suspicion at both defendants. After stating that, in a jailhouse confession, Powers had admitted murdering Mossier to him, Mulvey further. claimed that two years earlier Candy Mossier had paid him "seven grand" as a down payment to kill her husband. At this, Candy Mossier cried out across the courtroom, "I've never seen or heard of this man," an outburst that brought a stern rebuke from Judge George E. Schulz.
Mulvey continued: "I told her it wasn't enough."
"What did you do with the $7,000," asked Foreman.
"I stashed it." Mulvey replied, adding, "I'm a thief—not a burglar." According to several defense witnesses, Mulvey was also a heroin junkie, pathologically incapable of telling the truth, and a police informant willing to say anything to beat an upcoming habitual criminal rap and possible life sentence.
Additional topics