Richard Hickock and Perry Smith Trial: 1960
Trial Leaves Questions Over Sanity, Appeals Fail To Overturn Conviction, Suggestions For Further Reading
---
---
Defendants: Richard E. Hickock and Perry E. Smith
Crime Charged: Murder
Chief Defense Lawyers: Arthur Fleming and Harrison Smith
Chief Prosecutors: Logan Greene and Duane West
Judge: Roland H. Tate
Place: Garden City, Kansas
Dates of Trial: March 22-29, 1960
Verdict: Guilty
Sentence: Death by hanging
---
---
SIGNIFICANCE: The case provided a classic example of the limitations of the M'Naghten Test by which defendants are judged mentally fit to stand trial. Truman Capote's book about the case, In Cold Blood, further cemented the author's literary reputation and brought the debate over capital punishment into focus for millions of readers worldwide.
The people of Holcomb, Kansas, had not forgotten them, but the trial and punishment of Richard Hickock and Perry Smith came and went unnoticed by most Americans. Within months of their execution, however, Smith and Hickock became two of the most famous murderers in history.
On Sunday morning, November 15, 1959, a successful, respected, and well-liked Kansas farmer named Herbert Clutter was found in the basement of his home with his throat cut and his head blown open by a shotgun blast. His wife Bonnie and their teenaged children, Kenyon and Nancy, were found bound, gagged, and shot to death elsewhere in the house. There were no clues nor any apparent motive. "This is apparently the work of a psychopathic killer," declared the local sheriff.
The bloody slayings might have remained unsolved without the help of a convicted thief, who had once shared a cell with a small-time check kiter named Richard Hickock. The thief had worked on the Clutter farm and described it to Hickock, who asked if the Clutters had a safe. The thief thought they did. Hickock declared that he would find the farm, rob the Clutters, and kill all witnesses, adding that his former cellmate Perry Smith would be just the man to help. Herb Clutter's former hired hand dismissed Hickock's plan as a fantasy, but he came forward when he heard of the murders.
Hickock and Smith were soon arrested in Las Vegas, Nevada, for parole violation and passing bad checks. The Kansas Bureau of Investigation dispatched agents to Nevada, where they questioned the suspects separately. Hickock denied any knowledge of the slayings, but a clever interrogation led Smith to confess to having shot the Clutters. Hickock confessed his part in the slayings the next day and the two men were returned to Kansas for trial.
The gruesome confessions and physical evidence made it clear that the accused men were responsible for the killings. Arguing for the death penalty, prosecutor Logan Greene said, "some of our most enormous crimes only happen because once upon a time a pack of chicken-hearted jurors refused to do their duty." The jury deliberated for only 40 minutes before returning a guilty verdict, ironically about a minute for each dollar Smith and Hickock had found in the Clutter home—there was no safe. "No chicken-hearted jurors, they," Smith joked as he and Hickock were led laughing from the courtroom. Judge Roland Tate sentenced the defendants to death by hanging.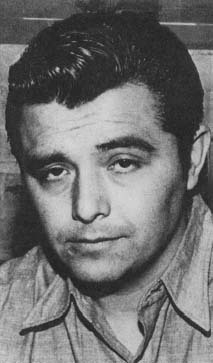 The case of Perry Smith (above) and Richard Hickock brought the debate over capital punishment into focus. (AP/Wide World Photos)
Additional topics