Charles Starkweather and Caril Fugate Trials: 1958
Tough Background, Hostage Or Killer?
---
---
Defendants: Charles Starkweather, Caril Fugate
Crime Charged: Murder
Chief Defense Lawyers: T. Clement Gaughan, William F. Matschullat, John McArthur
Chief Prosecutors: Elmer Scheele, Dale Fahrnbruch
Judge: Harry A. Spencer
Place: Lincoln, Nebraska
Dates of Trials: Starkweather: May 5-23, 1958; Fugate: October 27-November 21, 1958
Verdict: Guilty
Sentence: Starkweather: death; Fugate: life imprisonment
---
---
SIGNIFICANCE: Can a dysfunctional upbringing ever excuse homicide? That was the question facing jurors in this remarkable saga that changed forever the face of murder in America.
Although he had murdered a few weeks before, Charlie Starkweather, a diminutive 19-year-old garbage truck driver from Lincoln, Nebraska, didn't begin killing in earnest until January 21, 1958. This was the day when he visited the home of his girlfriend, Caril Fugate, aged 14. While awaiting her return, Starkweather got into an argument with Fugate's mother. When she tried to slap him, he grabbed a rifle and shot her. Seconds later, Fugate's stepfather was similarly dispatched. Minutes later Fugate arrived home, at which point Starkweather stabbed her 2-year-old half-sister to death.
Then, after pinning up a notice in the window that read "Every Body is Sick with the Flu," the couple hunkered down for the next six days, watching television, having sex, gorging themselves on fast food. In that time various people visited the house and met the two teenagers. No one noticed anything out of the ordinary.
One week later, alerted by an anxious relative, police officers called at the house and uncovered the massacre. But there was no sign of the wanted couple.
Another week passed before they were captured. In that time they had gone on a killing binge across Nebraska, littering the highway with bodies, until their final tally reached 11 victims. When eventually arrested, Starkweather mugged for the cameras like some psychotic James Dean, cigarette drooping from his mouth—America's first rock 'n' roll killer had just been born. By this time Fugate had already washed her hands of him.
They were tried separately, Starkweather first. He swaggered into court on May 5, 1958, before Judge Harry Spencer, to face a single count of murder, that of Robert Jensen. The facts were not in dispute, and neither was Starkweather's culpability; at issue was his mental state.
Earlier Starkweather had pointedly refused to cooperate with attempts to save his life through a plea of insanity, sneering, "Nobody remembers a crazy man." Now, when his chief counsel, T. Clement Gaughan, told the jury that Starkweather's IQ was "only a point or two above an idiot," the defendant's knuckles whitened as he gripped the desk in rage. Starkweather, it seemed, would rather die in the electric chair than be classified as mentally subnormal.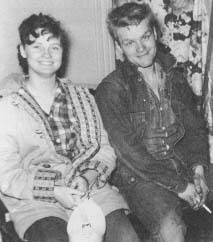 Charlie Starkweather and Card Ann Fugate. (Bettmann/Corbis)
Additional topics