Hollywood Ten Trials: 1948-50
Supreme Court Refuses To Review
As Lawson's and Trumbo's attorneys filed appeals, the eight others waived their rights to trial by jury, stipulating that they would stand on the records of the jury trials of the first two. However, they reserved the privilege of appealing. All 10 were confident that the Supreme Court would vindicate them. But in the summer of 1949, two liberal justices—Frank Murphy and Wiley Rutledge—died. Their successors, Tom Clark and Sherman Minton, shifted the court majority to the conservative side, and that majority refused to review the convictions of Lawson and Trumbo.
On June 9, 1950, Lawson and Trumbo began their jail terms. The trials of the remaining eight opened on June 22 before Judges Curran and Pine and Judge Richmond B. Keech. By June 29, all were found guilty. Six received oneyear sentences and $1,000 fines. Dmytryk and Biberman, however, for reasons never explained, were fined $500 each and jailed for only six months.
Defense lawyers Robert W. Kenny and Martin W. Popper introduced motions for acquittal, suspension of sentence, and release on bail pending appeal. The judges denied them all. Since the eight had agreed to stand on the records of the jury trials of the first two, and the Supreme Court had denied any review, they were sentenced and jailed at once.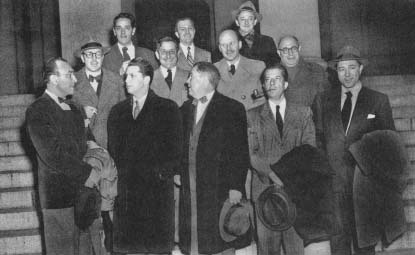 The "Hollywood Ten" before arraignment on contempt of Congress charges. (AP/Wide World Photos)
From their prison cells, all 10 men sued their employers for breach of contract. Negotiating together until well after the last of the Hollywood Ten had been released from prison, the studios finally settled out of court for $259,000, to be shared—but not equally—by all.
Some returned to their professions but had to write in the "black market"—using pseudonyms—for years. Trumbo wrote scripts under other names for 10 years, winning an Oscar for Best Motion Picture Story in 1957 as "Robert Rich." Lardner's blacklisting ended in 1964; he won an Oscar for M*A*S*H in 1971. Maltz wrote novels while blacklisted for 20 years. Cole taught screenwriting and reviewed films. Lawson moved from creating plays and films to writing about them and teaching. Bessie wrote novels.
In 1951, Dmytryk appeared before HUAC and recanted, naming 26 as Communists. Over the next 25 years, he directed a film each year. Ornitz wrote a best-selling novel. Scott wrote and produced for television. Biberman formed an independent production company and produced a semidocumentary peopledwith FBI informants and right-wing fanatics that won an International Grand Prize.
In 1948, HUAC Chairman J. Parnell Thomas was convicted of conspiracy to defraud the government by taking kickbacks from his staff. By the time two of the Hollywood Ten—Cole and Lardner—were imprisoned in the federal penitentiary at Danbury, Connecticut, in 1950, Thomas was already there serving his sentence.
Suggestions for Further Reading
Aaron, Daniel. Writers on the Left. New York: Harcourt, Brace & World, 1961.
Belfrage, Cedric. The American Inquisition. New York: Bobbs-Merrill Co., 1973.
Bessie, Alvah. Inquisition in Eden. New York: Macmillan Co., 1965.
Biberman, Herbert. Salt of the Earth. Boston: Beacon Press, 1965.
Cook, Bruce. Dalton Trumbo. New York: Charles Scribner's Sons, 1977.
Dick, Bernard F. Radical Innocence. Lexington: University Press of Kentucky, 1989.
Donner, Frank J. The Un-Americans. New York: Ballantine, 1961.
Goodman, Walter. The Committee. New York: Farrar, Straus & Giroux, 1969.
Kahn, Gordon. Hollywood on Trial. New York: Boni & Gaer, 1948.
Kanfer, Stefan. A Journal of the Plague Years. New York: Atheneum, 1973.
Kempton, Murray. Part of Our Time. New York: Simon & Schuster, 1955.
Lardner, Ring, Jr. The Lardners. New York: Harper & Row, 1976.
Navasky, Victor S. Naming Names. New York: Viking, 1989.
Taylor, Telford. Grand Inquest. New York: Simon & Schuster, 1955.
Vaughn, Robert. Only Victims. New York: G.P. Putnam's Sons, 1972.
Additional topics