Martin T. Manton Trial: 1939
"without Regard To The Merits"
---
---
The indictment noted that Manton was a stockholder in, or "wholly or substantially owned or controlled" a number of corporations that had cases pending in his court between 1930 and 1939. It charged that Fallon actively proposed to those litigants that his close friendship with Manton could get them favorable action, and that such parties actively sought Fallon's help "in virtue of Manton's office, position, power and influence." Finally, the indictment charged:
---
---
that Manton would accept and receive sums of money as gifts, loans and purported loans in return for such action, and would corruptly act in each of these cases without regard to the merits.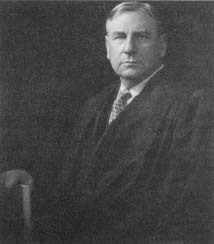 Harlan Stone was part of a specially constituted federal court in the trial of Judge Martin Manton. (Courtesy, Library of Congress)
Manton moved to quash the indictment, claiming it charged not one conspiracy but several separate conspiracies on one count, that it did not state an offense, and that more than one crime was charged in the indictment. The motion was overruled.
The trial soon produced evidence that Manton's downfall resulted from continuing his business activities after appointment to the bench. Many suits that reached his court involved patent-infringement disputes, with the loser doomed to heavy losses. Evidence showed that Manton owned stock in companies that were litigants and in whose favor he decided.
In one case, a patent infringement suit brought by Schick Industries against Dictograph Products Company, one Archie Andrews, the principal stockholder in Dictograph, provided Fallon with $10,000 in cash through an intermediary, who gave a receipt for the money for the purchase of Dictograph stock. Fallon went off to see Manton and returned within the hour to say, "Everything is O.K. You can go and tell Archie Andrews that he is going to get the decision in his favor." The decision was against Schick.
The district court jury found Manton guilty. He received the maximum sentence: two years in federal prison and a $10,000 fine. He appealed. Paradoxically, the appeal had to land in his own court, where all his fellow judges except one disqualified themselves as his close associates. Only Judge Charles E. Clark, who had been appointed to the bench after Manton resigned while under investigation, could hear the appeal. Therefore, a special federal court was constituted. Its judges were former Supreme Court Justice George Sutherland, Supreme Court Justice Harlan F. Stone, and Judge Clark.
Additional topics