Charles "Lucky" Luciano Trial: 1936
"i'm Gonna Organize The Cathouses Like The A&p"
The special blue-ribbon jury heard 68 witnesses. Some 40 were prostitutes or madams who had moved up in the ranks. One, Cokey Flo Brown, testified about meetings where Luciano presided. "I'm gonna organize the cathouses like the A&P," he had told her. "We could syndicate the places on a large scale same as a chain store system."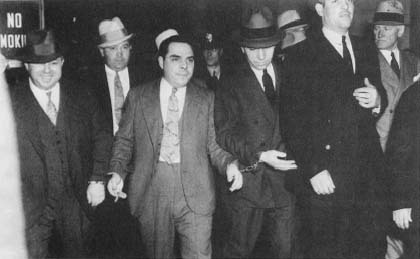 Lucky Luciano accompanied by guards at his hearing for compulsory prostitution, 1936. (AP/Wide World Photos)
Cokey Flo also testified that strong-arm methods had brought madams and pimps into line. "First you got to step on them," she quoted Luciano as saying. "Talking won't do no good. You got to put the screws on."
Against his lawyers' advice, Luciano insisted on taking the witness stand to deny all charges and deny knowing any of the witnesses. For four hours, Dewey pummeled him with questions, proving that he was lying in answer after answer.
Dewey's seven-hour summation described Luciano's testimony as:
… a shocking, disgusting display of sanctimonious perjury—at the end of which I am sure not one of you had a doubt that before you stood not a gambler, not a bookmaker, but the greatest gangster in America.
The jury agreed: guilty on all counts. Judge Philip J. McCook's sentence: 30 to 50 years—the longest ever for compulsory prostitution. On June 18, 1936, Luciano went to New York State's maximum-security prison at Dannemora.
Dewey later admitted that he had been able to convict Luciano only for "a minor racket," while:
It is my understanding that top-ranking defendants in this case have absorbed control of the narcotics, policy, loan-shark and Italian lottery syndicates, the receipt of stolen goods and certain industrial rackets.
Additional topics