Samuel Insull Trial: 1934
Arrested In Istanbul
---
---
A Cook County grand jury indicted Insull and his brother Martin for embezzlement from the Middle West Utilities Company and Mississippi Valley Utilities Investment Company. A federal grand jury indicted Insull and 16 others, including Samuel, Jr., who had joined his father's business in the 1920s, and Harold L. Stuart, for using the mails to defraud.
---
---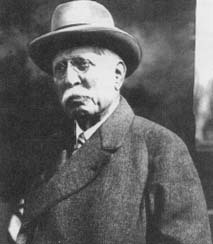 Samuel Insull: stock manipulator or scapegoat? (Archive Photos, Inc.)
Insull disappeared. Congress passed a special bill allowing U.S. authorities to arrest him in any country where it had extraterritorial rights. Found aboard a ship bound for Egypt, he was arrested in Istanbul and returned under heavy guard to America.
U.S. Attorney Dwight H. Green's opening at the trial on October 2, 1934, charged that the defendants, through Utility Securities Company, fraudulently schemed to induce investors nationwide to buy the common stock of Corporation Securities Company at inflated prices. He also charged that Insull-controlled companies had maintained a fictitious market for the common stock, thus misleading prospects as to its value. To carry out the scheme, the defendants had used the mails to send circulars to those they intended to defraud.
Additional topics