Gloria Vanderbilt Custody Trial: 1934
"trial Of The Century"
---
---
The opening of the trial in the "Matter of Vanderbilt" October 1, 1934, was jammed with more than 100 reporters, who dubbed it the "trial of the century," and with countless spectators. They heard nurse Keislich testify that she had seen Prince Langenburg and Mrs. Vanderbilt in bed together reading "vile" books. A chauffeur testified about Gloria Morgan Vanderbilt's several lovers. A French maid testified that she had found Lady Milford Haven at Mrs. Vanderbilt's bedside and "kissing her just like a lover." Judge Carew, who later admitted that until then he thought he had heard everything, immediately closed the courtroom to press and public.
---
---
Bedlam followed. The tabloids cried "Lesbianism." More refined papers reported Mrs. Vanderbilt's "alleged erotic interest in women." Women demonstrating outside the courthouse with placards declaring a mother's right to her child were perplexed. Meantime, testimony against Aunt Gertrude, an accomplished sculptress and founder of the Whitney Museum of Art, tried to establish her interest in the nude in art as an immoral influence on her niece.
The judge, baffled by more than five weeks of shocking public testimony, at last decided to take little Gloria, attorney Burkan, attorney Smyth, and the court stenographer into his chambers. Over 21/? hours, the stenographer recorded such questions and answers as:
How would you like to live with your mother down in the country?

No. Never. I always want to live with my aunt.

You lived a long while with your mother?

Yes, but I have hardly seen her. She has never been nice to me.

Don't you think you could learn to love her?

No. She never even kissed me good night.
On November 21, Gertrude Whitney was awarded custody of little Gloria. But the judge's decision stated that Gloria's mother could have her from Saturday morning to Sunday evening each week, for eight hours on Christmas day, and all the month of July. The New York Journal American summed it up:
Rockabye baby

Up on a writ, Monday to Friday Mother's unfit.

As the week ends she rises in virtue;

Saturdays, Sundays,

Mother won't hurt you.
Little Gloria now spent quiet weekdays in Old Westbury, ignored by her Aunt Gertrude, who lost interest in her immediately after the trial, and without nurse Keislich, whom the judge had dismissed. On Saturday mornings, under guard, she traveled to her mother's suite in the Sherry-Netherland Hotel in Manhattan, where reporters mingled with detectives and curiosity-seekers toblock her way and shout questions.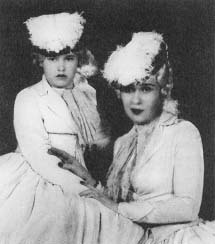 Gloria Morgan Vanderbilt, (right) and Gloria Laura Vanderbilt, (left) in a photograph of them taken after the court's decision to award custody of the child to Mrs. Whitney. (AP/Wide World Photos)
Lawyer Burkan tried to file an appeal to the New York State Court of Appeals. The court declined. Next, he asked the Supreme Court of the United States to review the case, on the grounds that little Gloria's constitutional rights had been violated. It, too, declined.
At 17, Gloria married Pasquale di Cicco, a Hollywood actors' agent. They divorced when, at 21, she came into her nearly $5-million estate. The next day, she married conductor Leopold Stokowski, who was 42 years older than she. The marriage produced two sons and a nervous breakdown for her, and after 10 years they parted, with Vanderbilt winning a custody fight that, ironically, awarded Stokowski permission to see the boys on weekends and for a month in the summer.
In 1956, Vanderbilt married film director Sidney Lumet. After their divorce in 1963, she married writer Wyatt Cooper, who died in 1978. They had two sons. Over the years, she had written poetry before turning to design, creating note cards, linens, china and chic blue jeans. The jeans brought her new wealth—a 3.5-percent royalty on $125 million in sales in 1979 alone—and new fame. In addition, Gloria Laura Morgan Vanderbilt di Cicco Stokowski Lumet Cooper has written two books in a projected five-volume autobiography.
Suggestions for Further Reading
Clemons, Walter. "Poor Little Rich Girl." Nersweek (June 16, 1980): 43-44.
Goldsmith, Barbara. Little Cloria … Happy At Last. New York: Alfred A. Knopf, 1980.
Howard, Margo. "Gloria Vanderbilt." People Veekly (June 10, 1985): 122-131.
Langway, Lynn, Diane Weathers, and Lisa Whitman. "Sic Transit Gloria." Vewsweek (June 16, 1980): 44-45.
Stasz, Clarice. The Vanderbilt 117omen. New York: St. Martin's Press, 1991.
Vanderbilt, Arthur 11. Fortune's Children. New York: William Morrow & Co., Inc., 1989.
Vanderbilt, Gloria. Black Knight, White Knight. New York: Alfred A. Knopf, 1987.
——. Once Upon A Time. New York: Alfred A. Knopf, 1985.
Additional topics