Al Capone Trial: 1931
"impossible To Bargain With A Federal Court"
If found guilty on every count, Capone would face a maximum sentence of 34 years. His lawyers negotiated with U.S. Attorney George Johnson, who, considering how tough it would be to get key witnesses to testify, agreed to 2Vz years in exchange for a guilty plea. With good behavior, the time would be short. But an angry Judge James Wilkerson said, "It is time for somebody to impress upon the defendant that it is utterly impossible to bargain with a Federal court." Capone then pleaded not guilty.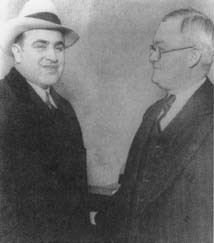 Al Capone and John Stege. (Courtesy, Library of Congress)
Prosecutor Johnson produced witnesses who proved Capone's ownership of the extremely profitable Smoke Shop, which had brought in more than $550,000 in two years and had picked up telegrammed money orders for Capone. A parade of witnesses including decorators, contractors, jewelers, butchers, bakers, brokers who had bought his Palm Beach house and boat for him, and tailors who had sold him pea-green and mustard-brown suits, provided ample evidence of Capone's expenditures.
Capone's defense was gambling losses: He almost never won. The argument was specious, for a taxpayer must have gambling winnings to deduct gambling losses. Defense attorney Michael Ahern, without calling Capone to the stand, concluded, "The evidence in this case shows only one thing against Capone—that he was a spendthrift.'"
The jury found Al Capone not guilty of tax evasion in 1924, but guilty on the counts for 1925 through 1927, and guilty of failing to file returns for 1928 and 1929. He was found not guilty on 17 remaining counts of tax evasion.
Judge Wilkerson imposed sentences totaling 11 years on the various counts, with fines of $50,000 and court costs of $30,000—the strongest penalties on a tax evader to that date. Capone was put in Cook County Jail, where he had a private cell with shower, freely made phone calls and sent telegrams, and entertained visiting gangsters "Lucky" Luciano and "Dutch" Schultz.
Shortly, however, Capone was moved to Atlanta, Georgia, then to the brand-new maximum-security prison on the island of Alcatraz in San Francisco Bay, California, where he enjoyed not one special privilege. By 1938 he was hospitalized with advanced syphilis. Treatment slowed but could not stop the disease. On his release in 1939, partially paralyzed, he settled in his Miami Beach home, where his wife and son had been waiting. There, fat and balding and haunted by imaginary killers, he lived until 1947.
Suggestions for Further Reading
Kobler, John. Capone: The Life and World of Al Capone. New York: G.P. Putnam's Sons, 1971.
Murray, George. The Legacy of Al Capone. New York: G.P. Putnam's Sons, 1975.
Olson, James S. Historical Dictionary of the 1920s. New York: Greenwood Press, 1988.
Sifakis, Carl. The Encyclopedia of American Crime. New York: Facts On File, 1982.
Additional topics