The Scottsboro Trials: 1931-37
"you Can't Mix Politics With Law"
---
---
The motion for a new trial was denied. The defendants switched allegiance constantly from the NAACP to the ILD and back again. Prominent attorney Clarence Darrow declined the NAACP's request that he steer the case through the Supreme Court. "You can't mix politics with law," he said, adding that the cases would have to be won in Alabama, "not in Russia or New York." The NAACP then withdrew its support.
---
---
In March, the Alabama Supreme Court upheld the convictions of all except Eugene Williams; as a juvenile, he was granted a new trial.
In November, the U.S. Supreme Court ruled that the seven boys had been denied "due process" under the Fourteenth Amendment when Judge Hawkins treated the appointment of defense counsel so casually.
As the state ordered a new trial, the ILD turned to Samuel Leibowitz, a noted criminal lawyer in New York. He argued successfully for a change of venue to Decatur, Alabama, where townspeople welcomed the reporters, and Western Union brought in extra operators.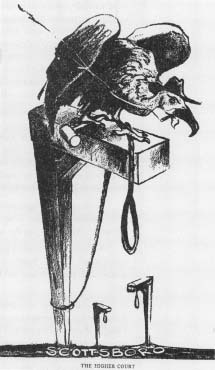 A poignant cartoon from the Scottsboro trials. (Courtesy, Library of Congress)
Haywood Patterson was tried first. Leibowitz produced several revelations: Ruby Bates recanted, saying she and Price had invented the rape story to avoid arrest for vagrancy (but she damaged her credibility by testifying in smart "New York clothes" bought for her by the ILD during a trip they provided to the big city); the boys had been seized from several points all over the 42-car train; Willie Roberson's painful, raging syphilis made him incapable of sexual activity; Olin Montgomery's blindness was equally limiting; and Victoria Price, who was married, had served time for adultery and fornication.
After Dr. Bridges repeated his testimony that the girls had not been raped, the second doctor—Marvin Lynch—spoke privately with Judge James Edward Horton during a recess. "I told the women they were lying, that they knew they had not been raped," said the doctor, "and they just laughed at me." But, he added, if he testified for the boys, "I'd never be able to go back into Jackson County." The judge, believing the defense would prove Patterson's innocence, said nothing.
Defense attorney Leibowitz himself now lived with National Guard protection against threats of lynching. County Solicitor Wade Wright added to the incendiary atmosphere: "Show them," he told the jury, "that Alabama justice cannot be bought and sold with Jew money from New York."
The jury found Patterson guilty. The sentence: death. When the defense filed a motion for a new trial, Judge Horton reviewed the medical testimony about the women, the lack of physical evidence of sexual activity on the part of the boys, and the unreliable testimony of Victoria Price and Ruby Bates. He set aside the jury's judgment and ordered a new trial. Then, under pressure from Attorney General Thomas Knight and the chief justice, he withdrew from the case.
Additional topics