Sacco-Vanzetli Trial: 1921
A Car To Move Red Literature
Stewart also was busy rounding up alien communists following raids by the U.S. Departments of Labor and Justice. Many were being deported. In May, a radical held on the 14th floor of the New York City offices of the Department of Justice was found dead on the sidewalk below. His friends, including Mike Boda, decided they had better hide a large quantity of Red literature. To move it, they needed Boda's car.
Boda and three others appeared at Johnson's garage. Mrs. Johnson called the police. Johnson refused to hand over the car because it had no up-to-date license plates. Boda and one man departed on a motorcycle. The other two boarded a street car. Arrested aboard the car minutes later were Nicola Sacco and Bartolomeo Vanzetti. Sacco carried a. 32-caliber pistol loaded with nine bullets, and 23 additional bullets in his pocket. Vanzetti had a fully loaded. 38-caliber revolver and four 12-gauge shotgun shells. Also found on Sacco was a notice, in Italian, of a forthcoming meeting at which Vanzetti was to speak on "the struggle for existence." The two men were active anarchists.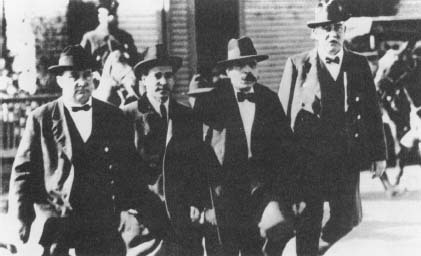 Bartolomeo Vanzetti and Nicola Sacco. (Courtesy, Library of Congress)
Grilled by District Attorney Frederick Gunn Katzmann, Sacco said he had bought the gun two years earlier for $16 or $17 and had bought a new box of cartridges. Vanzetti said his gun cost $18 or $19 four or five years earlier. Neither gun was licensed.
Vanzetti's shotgun shells put him under suspicion for the failed holdup on Christmas Eve, when a 12-gauge shotgun was fired. His alibi was that, as a fish peddler, he spent a busy Christmas Eve selling eels for traditional Italian dinners that night. At his trial, several witnesses identified him as the man with the shotgun. He did not take the stand to refute them and was convicted and sentenced to 12 to 15 years. Sacco, meantime, had a solid alibi: He had been on the job in a shoe factory when the attempted robbery occurred. But he was held for trial in the South Braintree murders, for on April 15 he had taken the day off.
Additional topics