Harry Thaw Trials: 1907-08
Thaw Is Tried For Murder
---
---
Upon learning of his arrest, Thaw's mother rushed to his defense. Publicly declaring that she would spend the family's $40-million fortune to set Thaw free, she paid to have her son represented by one of the most formidable lawyers of the age, Delphin Delmas. Delmas, an attorney short in stature but tall in reputation before the California courts, was known as the "Napoleon of the Western bar." Delmas brought four other attorneys with him to assist in Thaw's defense when the trial opened January 23, 1907: John B. Gleason, Clifford Hartridge, Hugh McPike, and George Peabody. Gleason would speak occasionally during the trial, but Delmas conducted the bulk of Thaw's defense.
---
---
The prosecutor was William Travers Jerome, New York's district attorney, who had once served as a judge and reportedly had ambitions to become governor one day. Jerome knew that the Thaw trial would be closely followed by the press and the public, for as the New York Times reported, "the Thaw trial is being reported to the ends of the civilized globe" due to:
The eminence of the victim, the wealth of the prisoner, the dramatic circumstance of the crime, and the light it sheds not only on Broadway life, but on the doings of the fast set in every capital.…
Thaw and his mother not only wanted to save Thaw from the electric chair, which was the penalty for murder, but prevent him from spending the rest of his life in an insane asylum. Therefore, from the beginning of the trial, Delmas conducted the defense with the aim of proving that Thaw was and always had been sane except for that evening of June 25, 1906, when he temporarily went insane and shot White. Delmas exploited Nesbit's beauty to appeal to the jury's emotions. He called Evelyn Nesbit to the stand, and asked her to describe the events of the night on which White raped her:
Mr. White asked me to come to see the back room and he went through some curtains, and the back room was a bedroom, and I sat down at the table, a tiny little table. There was a bottle of champagne, a small bottle and one glass. Mr. White picked up the bottle and poured the glass full of champagne.… Then he came to me and told me to finish my champagne, which I did, and I don't know whether it was a minute after or two minutes after, but a pounding began in my ears, then the whole room seemed to go around. Everything got very flat.… Then, I woke up, all my clothes were pulled off of me, and I was in bed. I sat up in the bed, and started to scream.
Prosecutor Jerome, who had produced a score of eyewitnesses testifying that Thaw shot White at point-blank range, watched in frustration while Delmas, in effect, put White's treatment of Nesbit on trial. Delmas then introduced the defense's argument of temporary insanity by asking Nesbit about Thaw's reaction upon learning of the rape incident. Delmas and Nesbit both carefully avoided the subject of Thaw's penchant for sadistic sex:
He would get up and walk up and down the room a minute and then come and sit down and say, "Oh, God! Oh, God!" and bite his nails like that and keep sobbing.
Nesbit's acting experience complemented Delmas' legal ability: the jury was masterfully presented with the picture of a young, pretty and innocent girl relating the story of her outrage to her husband, who then flies into a murderous fury. In his closing argument, Delmas hammered the argument home to the jury:
And if Thaw is insane, it is with a species of insanity known from the Canadian border to the Gulf. If you expert gentlemen ask me to give it a name, I suggest that you label it Dementia Americana. It is that species of insanity that inspires of every American to believe his home is sacred. It is that species of insanity that persuades an American that whoever violates the sanctity of his home or the purity of his wife or daughter has forfeited the protection of the laws of this state or any other state.
Judge James Fitzgerald reminded the jury that they could only find Thaw not guilty by reason of insanity if Thaw could not understand at the time of the murder that his actions were wrong. Jerome urged the jury to resist Delmas' appeal to their emotions:
Will you acquit a cold-blooded, deliberate, cowardly murderer because his lying wife has a pretty girl's face?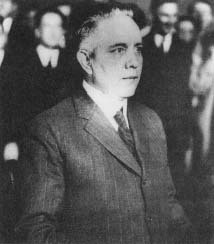 Harry Thaw's "dementia Americana" was cited as his motive for murdering architect Stanford White. (AP/Wide World Photos)
On April 12, 1907, the jury reported to Judge Fitzgerald that it could not reach a verdict and was deadlocked: seven jurors finding Thaw guilty of first degree murder, five jurors finding Thaw not guilty by reason of insanity. Judge Fitzgerald adjourned the court, pending a retrial of Thaw.
Thaw is Tried Again and Found Insane
Thaw's second trial began January 6, 1908. Although Jerome was still the prosecutor, Thaw had a new team of defense lawyers: Martin W. Littleton, Daniel O'Reilly, and Russell Peabody. Further, Judge Victor J. Dowling had replaced Judge Fitzgerald. Essentially the same witnesses, including Nesbit, testified as in the first trial. Neither Jerome nor the defense, however, fought as hard as they did in the first trial over the issue of temporary insanity. Perhaps both sides had decided that they would be content with a verdict of not guilty by reason of insanity, which would put Thaw in a mental institution but prevent his execution. Accordingly, this time the jury on February 1, 1908, after a trial of less than four weeks, found Thaw not guilty by reason of insanity.
After the jury's verdict, Judge Dowling sent Thaw to the Asylum for the Criminally Insane at Matteawan, New York. Thaw's trials had taken the insanity defense to a murder charge to new heights, particularly with Delmas' "dementia Americana" argument in the first trial. This defense stratagem had first been used successfully to acquit Congressman Daniel Sickles of the murder of his wife's lover back in 1859. Further, the sensationalism surrounding Nesbit and her testimony eventually led to the famous movie, "The Girl in the Red Velvet Swing."
Thaw divorced Nesbit in 1915, and spent the rest of his life in and out of insane asylums and the courts. He escaped from Matteawan and fled to Canada, but he was soon extradited by Canadian authorities back to New York. Briefly freed from the asylums by the battery of lawyers still retained by his mother, Thaw was arrested in 1917 for kidnapping and whipping 19-year-old Frederick Gump nearly to death. Mother Thaw arranged for her son to be sent to a Pennsylvania insane asylum, where he stayed until 1924. After 1924, Thaw was periodically in the news in connection with various wild parties or lawsuits by showgirls alleging that Thaw had beaten and whipped them. Thaw died February 22, 1947, at the age of 76, having lived until his last days off his inheritance from his mother.
Suggestions for Further Reading
"Beauty as Evidence." Life (June 1981): 10-13.
Hodge, Clifford M. "The Benefactor at Dorr's Pond." Yankee (December 1986): 154.
Langford, Gerald. The Murder of Stanford White. London: V. Gollancz, 1963.
Mooney, Michael M. Evelyn Nesbit and Stanford White: Love and Death in the Gilded Age. New York: William Morrow & Co., 1976.
Thaw, Harry K. The Traitor. Philadelphia: Dorrance Publishing Co., 1926.
Additional topics