Wyatt Earp Trial: 1881
A Mysterious Stage Coach Robbery, Trouble Brewing, Shootout, The Hearing, Aftermath, Suggestions For Further Reading
Defendants: Wyatt Earp, Virgil Earp, Morgan Earp, John "Doc" Holliday
Crime Charged: Murder
Chief Defense Lawyer: Thomas Fitch
Chief Prosecutor: Lyttleton Price
Judge: Wells Spicer
Place: Tombstone, Arizona
Date of Trial: October 31-November 29, 1881
Verdict: Not guilty
SIGNIFICANCE: The month-long trial—actually a preliminary hearing—made possible an American legend. Nearly every American, and millions in foreign lands, knows about Wyatt Earp, the heroic marshal who brought law and order to a score of Kansas cow towns before wiping out a gang of savage rustlers in the shootout at the O.K. Corral in Tombstone, Arizona. Unfortunately, there is little truth in the legend. If this hearing were conducted under different circumstances, Earp would be remembered as just another shady, if not totally criminal, frontier gunslinger.
In Tombstone, Arizona, a mining town, "cowboy" was synonymous with "rustler." There were a lot of rustlers in surrounding Cochise County, and most of the cattlemen, if not actually thieves, were the rustlers' customers. Tombstone citizens, most of them Union sympathizers during the Civil War, blamed the "cowboys," largely Confederate sympathizers, for every crime. Tombstone citizens had been discussing a vigilance committee to rid the county of undesirables, meaning all the cowboys. The proposed leader of the committee was Wyatt Earp.
Earp was by his own account a hero who had tamed many cow towns in Kansas. Actually, he was a former horse thief and buffalo hunter who had been fired from the Wichita police force for corruption and literally run out of town. He came to Dodge City and got a job on its four-man police force. In Dodge, he spent most of his time gambling with cowboys flush with back pay from the cattle drives. When the cattle boom there ended, he and his brothers moved west to gamble with the silver miners. Earp told everyone about his gunfighting skills and secured a faro dealership in return for protecting the staff of Tombstone's Oriental Saloon soon after he arrived in 1876.
Wyatt and Morgan Earp worked for the Wells Fargo Stage Coach company, but Wyatt wanted to be sheriff of Cochise County. So, although Wyatt was the hero of the "law and order" faction in Tombstone, the Earps also tried to stay on good terms with the cowboys. That may be why, when a prominent rustler, Curly Bill Brocius, shot and killed City Marshal Fred White, Virgil Earp, deputy city marshal, swore it was an accident. It was a most improbable accident:for it to happen, White would have had to be reaching for a cocked revolver pointing at his chest. Coincidentally, White's "accidental" death made Virgil acting city marshal.
The incumbent sheriff, Johnny Behan, was Wyatt Earp's rival in love as well as politics. Wyatt had begun squiring around Behan's mistress, Josie Marcus, an actress and department store heiress. Earp kept his own common-law wife, Mattie, confined to their home.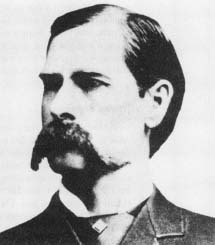 Wyatt Earp, known for his participation in the shootout at O.K. Corral, Tombstone, Arizona. (Archive Photos)
Additional topics