John "Jack" McCall Trials: 1876
The First Trial
---
---
Preparations began immediately for McCall's trial. Deadwood did not have any formal government, so that evening the local businessmen elected three lawyers (all of whom had left their practices elsewhere to find gold) to serve as judge, prosecuting attorney, and defense counsel. A sheriff and clerk were also appointed, and procedures were established for the selection of the jury. The trial was set for nine o'clock the next morning at McDaniel's Theater. To prevent a lynching, 25 men guarded McCall during the night and the judge insisted that the sheriff and clerk, as well as the lawyers and all the leading businessmen of the community, be "present with their revolvers when the court convened."
---
---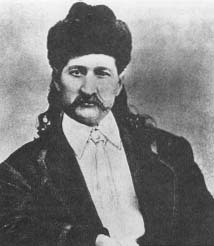 Black" Jack McCall, man who shot Wild Bill Hickok. (Courtesy, National Archives)
McCall pleaded "not guilty" and, after the jury was picked, the prosecution called four witnesses who either saw the actual shooting or were in the saloon when the shot was fired. In turn, the defense called a number of witnesses who all swore to McCall's good character. Finally, McCall himself testified:
Well, men, I have but few words to say. Wild Bill killed my brother, and I killed him. Wild Bill threatened to kill me if I crossed his path. I am not sorry for what I have done. I would do the same thing over again.
That was enough for the jury to acquit McCall. The entire proceeding took only 12 hours.
The verdict was not well received by many people in Deadwood. There were rumors of bribes and the prosecuting attorney, Colonel George May, vowed to seek justice elsewhere. McCall stayed in town for a while, but left when one of Hickok's close friends, California Joe, arrived. It was also noted by many that while McCall had only $43 on the day he was tried, he was seen soon thereafter with a large amount of cash and a gold watch and chain.
Additional topics