Boss Tweed Trials: 1873
Reformers Fight Back, Tweed Fights Verdict, Suggestions For Further Reading
---
---
Defendant: William Marcy Tweed
Crimes Charged: 55 criminal offenses relating to embezzlement of public funds
Chief Defense Lawyers: David Dudley Field, John Graham, and Elihu Root
Chief Prosecutors: Wheeler H. Peckham, Benjamin K. Phelps, and Lyman Tremain
Judge: Noah Davis
Place: New York, New York
Dates of Trials: January 7-November 19, 1873
Verdict: Guilty
Sentence: 1 year in prison and a $250 fine
---
---
SIGNIFICANCE: After decades of committing blatant embezzlement of New York City municipal funds with the connivance of Tammany Hall and public officials, Boss Tweed's power was broken. Tweed's fall from power marked the beginning of a new demand by the public and by the press for efficient and honest urban administration.
Descended from hard-working Scottish immigrants, William Marcy Tweed was born in 1823 in New York City. He was a brawling bully from his early youth, heavyset and strong, and as a boy he enjoyed beating the other children in his neighborhood. As an adult he weighed nearly 300 pounds. Tweed bullied and fought his way to a position of leadership among New York's criminal elements, notably the "Forty Thieves" gang. In the 1851 elections Tweed used threats and intimidation of the voters in his precinct to force his way onto New York City's Board of Aldermen.
Tweed was an alderman for two years, and he used the position as a stepping stone for his political career. He served on the Board of Education, and even finagled his election to the U.S. House of Representatives. In 1857, Tweed was elected to New York City's Board of Supervisors, which ran the city's municipal government and controlled its finances. The position was ideal for the greedy Tweed, who promptly installed his cronies as "assistants" and raised the level of city corruption to new heights.
Tweed and his gang were called the Tweed Ring, and they stole enormous sums from the city treasury by falsifying municipal accounts and by creating false or grossly exaggerated expense records. Anyone who opposed them was beaten or killed. In the 1860s, Tweed extended his power to include control over the city's courts. Tweed had George G. Barnard appointed chief judge, although Barnard had practically no legal experience and his only qualification for the post was his allegiance to Tweed. Other judges were on Tweed's payroll as well, including the father of future Supreme Court Justice Benjamin Cardozo.
Tweed's control of the city was buttressed by the support of the Tammany Hall political organization. To control the elections, Tammany Hall sold citizenship documents to practically any immigrant who promised to vote for the Tweed slate. Since New York was teeming with millions of new immigrants, most of whom had fled poverty and were desperate to stay in America, Tweed and Tammany Hall not only were able to control the elections but made hundreds of thousands of dollars as well.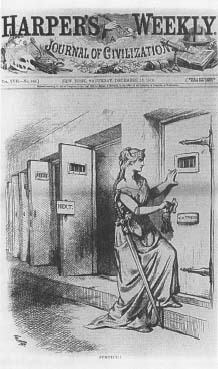 Cartoonist Thomas Nast recalled growing up in fear of the random beatings meted out by Tweed's gang. In the above cartoon he shows relief that justice has been served. (Harper's Weekly)
Additional topics