George Armstrong Custer Court-Martial: 1867
The Court-martial, The Aftermath
---
---
Defendant: George Armstrong Custer
Crimes Charged: Absence without leave from his command; conduct prejudicial to good order and military discipline. In addition to three formal charges, there were eight detailed specifications.
Defense Lawyer: Charles C. Parsons
Prosecutor: Captain Robert Chandler, Judge Advocate
Presiding Officer: William Hoffman
Court: Benjamin Grierson, Pitcain Morrison, Michael Morgan, Franklin Callender, Thomas English, Henry Asbury, Stephen Lyford
Place: Fort Leavenworth, Kansas
Date of Trial: September 15-October 11, 1867
Verdict: Guilty of five of the 11 charges and specifications.
Sentence: Suspended from rank and command for one year and forfeit of pay for the same period.
---
---
SIGNIFICANCE: This court-martial was not untypical of the way the U.S. military held its officers to account in that era, but it was also typical of the way internal and personal motives could play a role in who was singled out for discipline. Many observers then and since have felt that George Armstrong Custer was being used as a scapegoat for the failure of the costly 1867 expedition against the Kansas Indians. On the other hand, Custer's treatment of the deserters seems highly questionable, and in retrospect his actions portend the rash behavior that led to the disaster at Little Bighorn in 1876.
There were many heroes from both the Union and Confederate forces who emerged from the Civil War but among the most dashing was George Armstrong Custer. As a young graduate from West Point's Class of 1861, he participated as a cavalry officer in virtually all the battles of the Army of the Potomac from the first to the last. By April 1865, his bold actions had earned him a temporary promotion to major general at the age of 25.
At the end of the war, Custer reverted to his permanent rank of captain; in 1866 he was promoted to lieutenant colonel and assigned to command the Seventh Cavalry Regiment based at Fort Riley in eastern Kansas. At this time, the Indians across the West were increasing their attacks on all forms of white people's encroachments—forts and supply outposts, the new railroads, overland wagon trains, and settlers. General William T. Sherman, commander of the military forces in the vast western region, assigned Major General Winfield S. Hancock to take charge of a campaign to commence in the spring of 1867. Custer's Seventh Cavalry was assigned a major role.
As the weeks passed, Hancock's campaign was increasingly regarded as ineffectual until in June it was decided to pursue the Indians more aggressively. Encounters between the Indians and the U.S. troops accelerated in frequency, violence, and casualties; desertions in the U.S. forces were also increasing. Fort Wallace, the westernmost military post in Kansas, was effectively under siege by Indians when Custer arrived there on July 13. Finding its beleaguered forces short of food, medical supplies, and ammunition, and with men dying from cholera almost daily, Custer decided on his own to lead about 75 of his troops to Fort Harker, some 225 miles to the east, to obtain vital supplies to take back to Fort Wallace.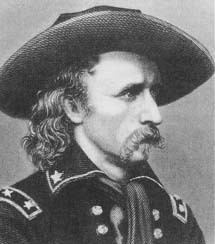 George Armstrong Custer whose actions during the expedition against the Kansas Indians may have led to his rash behavior at Little Big Horn (Courtesy, Library of Congress)
He set off on July 15 and arrived at Fort Harker on July 19. By July 21, Commander, Colonel Andrew J. Smith placed him under arrest. On August 7, General in Chief of the U.S. Army Ulysses S. Grant ordered a general court-martial to try Custer at Fort Leavenworth, Kansas, in September. What had Custer done wrong?
Additional topics