Roberts v. City of Boston: 1848-49
Suit Challenges Segregated Schools
Although the General School Committee had nearly unfettered power to run the school system as it saw fit, state law did give every child a right, through his parents, to sue the city for damages if it unlawfully denied him or her admission to school. This was the provision that Benjamin F. Roberts and his five-year-old daughter Sarah used in 1848 when Sarah tried to attend a white school.
Sarah lived nearly half a mile from the closer of the two black schools. On the way to that school, she passed no fewer than five white schools. Attendance at one of these would have been much more convenient for her, so on February 15, 1848, she entered the white school closest to her home, but the teacher forced her to leave. Sarah's father tried to enroll her in a white school a total of four times; each time the General School Committee refused to allow the enrollment, simply because Sarah was black. After these repeated rebuffs, Roberts sued the city.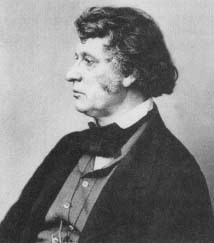 Charles Sumner, leading attorney in Roberts v. City of Boston argued this case which validated segregation in the public schools. (Courtesy, National Archives)
The Robertses' leading attorney was 38-year-old Charles Sumner, an erudite antislavery sympathizer who would soon be a U.S. senator. Sumner made a long and impassioned argument before the state's Supreme Court to show that segregation was not only illegal, but wrong. The Massachusetts Constitution and Massachusetts case law, Sumner declared, both required the equal treatment of all citizens. Thirteen years earlier, in 1836, the Massachusetts Supreme Court's Aves decision had abolished slavery in the commonwealth; since that time, Sumner argued, all were equal, and thus entitled to equal treatment.
The black schools were not actually equal, Sumner continued. What was more, he stated, they could never be legally equal, since by their existence they created a caste system. This sort of stereotyping, Sumner proclaimed, denied an individual's equality under the law. "He may be poor, weak, humble, or black," he argued, "he may be of Caucasian, Jewish, Indian, or Ethiopian Race … but before the Constitution of Massachusetts all these distinctions disappear … he is a MAN, the equal of all his fellow men." Against this onslaught, city solicitor Peleg W. Chandler could only argue that state law gave the General School Committee the power to run the school system in any way it chose. He also hinted that segregation, far from being unreasonable, served all of the children's best interest.
Additional topics